Everett, the Incredibly Helpful Helper (Hardcover)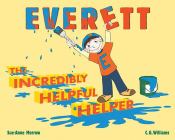 Description
---
Everett Ellington understands that there are a lot of things that need to get done every day. And Everett Ellington knows that heGCOs the guy to do them. Get to know this two-and-a-half-year-old who wakes up full of energy and ready to GChelpGC his parents with everyday tasks, and, as the messes pile up, so do Mom and DadGCOs frustrationsGCountil EverettGCOs attempts to help out finally pay off and he manages to save the day.
In line with the teachings of famous early childhood educator Maria Montessori, Everett reaffirms the developmental importance of a childGCOs participation in family activities and daily chores. While the chaos a toddler can cause often demands plenty of patience, Everett reminds parents of the generous, useful individual they are hoping to raise.
The funny, sweet story of one youngsterGCOs efforts to be a valuable, helpful member of the family team, "Everett, the Incredibly Helpful Helper" will charm adults with its optimism and joy, while children will connect with its warm and funny illustrations.
About the Author
---