The Times Cricket Quiz Book (Paperback)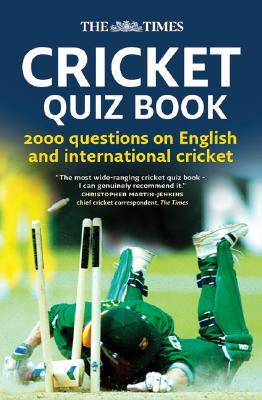 $9.99
Usually Ships in 2-3 Days
Description
---
The definitive cricket quiz book with 2000 quality questions on all aspects of the game.
Since England won the Ashes in 2005 cricket has enjoyed a resurgence in popularity. This book will appeal to quiz goers but also to cricket enthusiasts to enjoy as an informative read.
Some of the facts and brainteasers will amuse and entertain as well.
Questions allude to all facets of the game including the laws of cricket, the politics, the history, the venues, the teams, the players, the results and the winners and the losers. The major tournaments are covered - the Test Matches, One Day Internationals, The World Cup, Twenty 20, County Cricket and Ashes contests.
Each quiz deals with a single category such as a county, a venue or a player but there are also some quirkier sections such as 'Cricket's Bad Boys', 'The Big Hitters', 'Players nicknames and middle names'. The questions vary in their level of difficulty and follow the formats listed here:
- straightforward question and answer
- true or false
- who am I?
- anagrams e.g. which player's name is an anagram of 'Fanned off twirl'
- who said?
- brainteaser e.g. which England player's name end in the letter i?
About the Author
---
Chris Bradshaw has extensive knowledge of both cricket and question setting. He has previously worked at 'Sportspages - The Specialist Sports Bookshop' concentrating on cricket books. He has also worked at question answering text service 'Any Question Answered'. He set the questions for the Guardian Sports Quiz of the Year 2006 last December and is a regular pub quizzer. He's ever hopefuly that Lancashire will win their first Championship since 1934.