Slaphappy: Pride, Prejudice, and Professional Wrestling (Hardcover)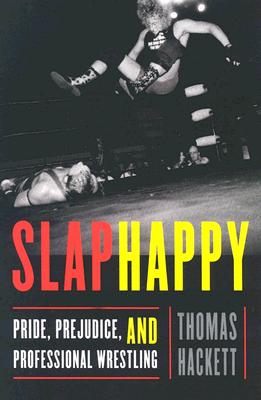 $24.95
Email or call for price.
Description
---
Slaphappy is reporter Thomas Hackett's penetrating look at the world of professional wrestling, for those who love the spectacle and for the sport's skeptics and the uninitiated. Through interviews with wrestlers, promoters, and fans, Hackett explores the full range of issues that swirl around wrestling culture -- fame, masculinity, violence, aggression, performance, and play. Among the lessons of professional wrestling is that deceit is a fundamental fact of American life. And yet, paradoxically, the one thing wrestling isn't is dishonest. Although wrestlers play pretend, wrestling itself doesn't pretend to be anything other than what it is -- fantastically absurd, a very American kind of madness. Celebrity-obsessed, pathologically narcissistic, murderously competitive, it both epitomizes and parodies the delusional egoism at the heart of the culture.
More than that, wrestling provides its fans and performers a medium for thinking about "getting over" in America today. This spectacle of excess may be the apotheosis of American imbecility, but it is also defiant, hopeful, liberating, and unifying -- a throwback to the raucous pleasures of early theater. Fans aren't detached connoisseurs, looking satirically down on life, concealing their anxieties in the cold comforts of irony. They are total participants in a carnival of their own making, shouting epithets, throwing chairs, expatiating their worries in a crowd's triumphant foolishness.
It is, Slaphappy concludes, all the stuff of human culture. Where does fantasy end and reality begin? Where does the performance stop and life take over? Writing with affection and discernment, Hackett gets deep into the culture, discovering that the make-believe competition of wrestling is indeed "real" for millions of young men -- real in the sense that something real and important is at stake: their worth as men.
About the Author
---
Thomas Hackett has been writing for magazines and newspapers for nearly twenty years. Born and raised in Eugene, Oregon, he began contributing "Talk of the Town" pieces while working as a messenger at The New Yorker and has since published features and profiles in many other magazines, including Rolling Stone and the New York Times Magazine. He lives in New York City.