Two Minutes to Glory: The Official History of the Kentucky Derby (Paperback)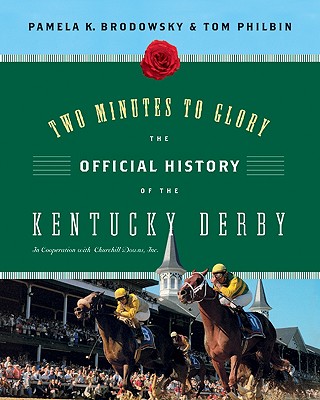 $19.99
Usually Ships in 2-3 Days
Description
---
Take a front row seat at "the Run for the Roses" with the first comprehensive history of the Kentucky Derby.
From mint juleps to the garland of roses, to weeping men and women in the Winner's Circle, Two Minutes to Glory is the official story of the world's greatest horse race—the Kentucky Derby.
This book is chockablock with facts, figures, and statistics on all 132 years of this incredible race. It also contains a capsuled yet detailed history of the race and of Churchill Downs, focusing on all the larger-than-life personalities from Col. M. Lewis Clark, who founded the Derby in 1875, to Col. Matt Winn, who saved it when it was in the stretch, out of breath, about to break down, and in need of a miracle—and beyond that to the present day.
But perhaps the best parts of this lavishly illustrated book are the stories of the races, from 1875 to 2006. It is not a mere recitation of what happened—though there is that—but the human (and horse) stories behind the races, like that of Conn McCreary, who, astride Count Turf in 1951, looked down the track before the gates opened and knew that he was riding not just to win the Derby, but for his life. Or the 2005 race where a seventy-nine-year-old woman named Alice Chandler burst into tears as she watched her 50-1 shot Giacomo roar down the stretch to win—but also cried because she knew that when just a foal, he had previously beaten an opponent called death. This book looks at all the people and horses who made the Derby what it is over the years: trainer Ben A. Jones with six Derby winners; Eddie "Banana Nose" Arcaro and Secretariat, who broke the two-minute barrier and ran the fastest Derby in history; the great owners, the grooms—and all the rest. It is history, yes, but history with heart and soul.
As horsemen say, have a good ride.
About the Author
---
Pamela K. Brodowsky grew up on a horse ranch and has more than 30 years of experience with race horses, often showing Thoroughbreds in competitions. She is also the founder of International Literary Arts, and is a popular speaker at many writers' conferences. She lives in Moscow, Pennsylvania, with her husband and two children.
Tom Philbin is a writer of numerous books and has also written articles for a variety of magazines, including Parade, Woman's Day, and Reader's Digest. He lives in Centerport, New York.