Chalked Up: Inside Elite Gymnastics' Merciless Coaching, Overzealous Parents, Eating Disorders, and Elusive Olympic Dreams (Hardcover)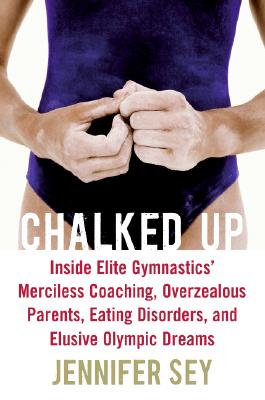 Description
---
The true story of the 1986 U.S. National Gymnastics champion whose lifelong dream was to compete in the Olympics, until anorexia, injuries, and coaching abuses nearly destroyed her
Fanciful dreams of gold medals and Nadia Comaneci led Jennifer Sey to become a gymnast at the age of six. She was a natural at the sport, and her early success propelled her family to sacrifice everything to help her become, by age eleven, one of America's elite,competing at prestigious events worldwide alongside such future gymnastics' luminaries as Mary Lou Retton.
But as she set her sights higher and higher—the senior national team, the World Championships, the 1988 Olympics—Sey began to change, putting her needs, her health, and her well-being aside in the name of winning. And the adults in her life refused to notice her downward spiral.
In Chalked Up Sey reveals the tarnish behind her gold medals. A powerful portrait of intensity and drive, eating disorders and stage parents, abusive coaches and manipulative businessmen, denial and the seduction of success, it is the story of a young girl whose dreams would become eclipsed by the adults around her. As she recounts her experiences, Sey sheds light on the destructiveness of our winning-is-everything culture where underage and underweight girls are celebrated and on the need for balance in children's lives.
About the Author
---
The 1986 national gymnastics champion and a seven-time U.S. National team member, Jennifer Sey is a graduate of Stanford University. She lives with her husband and two sons in San Francisco.
Praise For…
---
"A cautionary tale to not just athletes, parents, coaches, and judges but to fans of gymnastics… intense, gripping, and powerful."
— Kathryn Bertine, ESPN columnist and author of All the Sundays Yet to Come: A Skater's Journey

"A remarkably candid, unblinking portrait of what it truly takes to become a champion…that may forever alter the way you watch sports."
— Jake Tapper, Senior National Correspondent, ABC News

"Chalked Up pulls no punches…Sey's writing is brilliant…offering perceptive psychoanalysis of everyone in her isolated world…Chalked Up is proof that she still has alot of guts."
— International Gymnast

"She has eloquently and fairly exposed a dark side to our sport that parents have long needed to be made aware of."
— Dominique Moceanu, Olympic Gold Medal Winning Gymnast

"Sey writes with vivid, clear-eyed candor; she doesn't blame others, instead feeling that all the pressure came from within…To this day, this former athlete, now a highly successful businesswoman, is haunted by feelings of failure. Young athletes and their parents would appreciate Sey's book."
— Library Journal

"A courageous story befitting a comeback kid—a timely release for the 2008 Olympics."
— Publishers Weekly

"Is the wonder of seeing these tiny bodies propel through space worth the horror they suffer to achieve grace and beauty? Or—and this is a conclusion the Sey refuses to draw—is this "sport" just institutionalized, commercialized, child abuse?"
— Penthouse

"CURLING UP WITH A GOOD HEALTH BOOK: In 1986 Sey was the number one gymnast in America. Her memoir recounts what it took to get there. As a former gymnast myself (no where NEAR as accomplished), I relished this unvarnished account of the sport."
— Real Simple Magazine (blog), Liz Krieger

"Sey's memoir has sent shock waves through the tightly knit world of top athletes, sparking controversy…She hopes her book might serve as both a wake-up call to a sport that she says she still loves and a lesson to parents whose children enter the world of top athletics."
— The Observer, UK