Fear Is a Choice: Tackling Life's Challenges with Dignity, Faith, and Determination (Hardcover)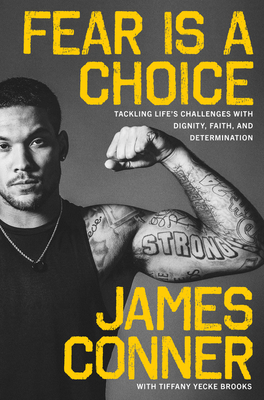 Description
---
From fighting for his life to pursuing a career in the NFL, ACC Player of the Year and star Pittsburgh Steelers running back James Conner has lived a story offering wisdom and advice for anyone who has faced adversity.
During his first two years at the University of Pittsburgh, running back James Conner became one of the Panthers' biggest stars, breaking records and winning the adoration of fans. Then, in the first game of his junior year, disaster struck in the form of a torn MCL. During rehab, James's health continued to inexplicably deteriorate until a chest X-ray and biopsy confirmed the unthinkable: a diagnosis of Hodgkin's lymphoma. Suddenly, it wasn't just the dream of an NFL career that was in jeopardy; it was James's life. Yet when he shared the news of his diagnosis publicly, James rallied family, friends, and fans, with his message of hope and courage: "Fear is a choice. I choose not to fear cancer." In just ten words, James defined his own journey on his own terms and refused to back down from one of the most dreaded diseases known to man.
Drawing strength from his faith in God and the support of his community and loved ones, James underwent treatment but continued to practice with his team despite the intense physical toll of chemotherapy. He was declared cancer-free within a year. Returning to the field in 2016, he finished his college career with a record-breaking 3,733 rushing yards and 56 touchdowns. Entering the NFL draft early, his success continued. Selected in the third round by the Pittsburgh Steelers, he quickly became one of the most beloved rookies in the league.
In Fear is a Choice, James candidly shares his experiences during his battle with cancer and beyond, encouraging readers and illustrating the spiritual truths and personal principles that got him through his darkest days. James Conner is an inspiration for everyone who wants to learn how to tackle life's problems with dignity, faith, and determination.
About the Author
---
James Conner is a running back for the Pittsburgh Steelers. In his freshman year at the University of Pittsburgh, James broke Tony Dorsett's school record for most rushing yards in a bowl game with 229 yards. The following year, James set an ACC record with 26 rushing touchdowns in one season and was named the ACC Player of the Year.He made a triumphant return his senior year, propelling him into the NFL, where he was named to the Pro Bowl for the 2018 season.
Tiffany Yecke Brooks has worked as a lead or contributing writer for nearly two dozen books. She holds a PhD in Literature from Florida State University and teaches writing and publishing courses for several universities.
Praise For…
---
"Life is full of choices and decisions, and it's clear in Fear Is a Choice that James chose not to be a victim of his circumstances. His vulnerability makes this book so relatable. James decided during one of the toughest battles in his life to be an inspiration for everyone who will follow. Fear Is a Choice is more than a great book—it's a mentality." 
— Akbar Gbajabiamila, host of American Ninja Warrior

"Fear Is a Choice will inspire every reader to become better through invaluable lifelong lessons and powerful perspective. James teaches us that if we harness fear and meet life's challenges with faith, determination, and hard work there is nothing we can't accomplish." ­
— Kyle Carpenter, USMC Medal of Honor recipient and national bestselling author of You Are Worth It

"You don't have to be a football fan to be inspired by James Conner. On the field, James has never backed down from an opponent. He scored the biggest victory of his life—beating cancer—with that same courage and resolve. Like one of James's powerful touchdown runs, this very personal story will make you want to stand and cheer."
— Pat Narduzzi, head coach of the University of Pittsburgh football team

"When faced with the biggest adversity an athlete can face, James Conner chose every emotion but fear. In Fear Is a Choice, he shares his journey and his belief that we are all playing for someone who can't. We must give it our best shot. A truly inspirational book by an incredible role model we all can learn from."
— Brittany Wagner, star of Last Chance U