The Insider's Guide to Boat Cleaning and Detailing: Professional Secrets to Make Your Sail-Or Powerboat Beautiful (Paperback)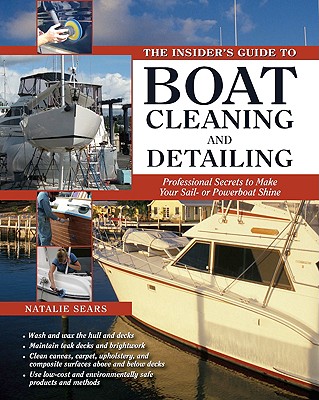 Description
---
Restore that "showboat" look to tired gelcoat, canvas, brightwork, upholstery, metalwork, and more
Boat cleaning isn't as simple as taking a can of kitchen cleanser and scrubbing away, and improper procedures can cause damage to the boat or the environment. This is the only stem-to-stern guide to all aspects of boat cleaning and detailing. The book recommends both generic and brand-name cleaning and maintenance materials to help you make the right selections.
Lots of before-and-after photos show you how to:
Keep your boat looking great and protect market value
Achieve maximum results with minimum work and environmentally safe methods.
Use tables and checklists to keep work organized and efficient
About the Author
---
Natalie Sears founded Deckhand Detailing just after completing high school in 1990. After a several-year hiatus to earn a business degree at the University of Washington and work for Microsoft as a marketing manager, she re-established Deckhand Detailing in 2002 and achieved immediate success once again, hiring staff and contracting her services to boatyards and marinas as well as boat owners and professional yacht captains. She writes a popular monthly column on boat cleaning for Norwesting, a Pacific Northwest boating magazine.