Golf Rules & Etiquette Simplified: What You Need to Know to Walk the Links Like a Pro (Paperback)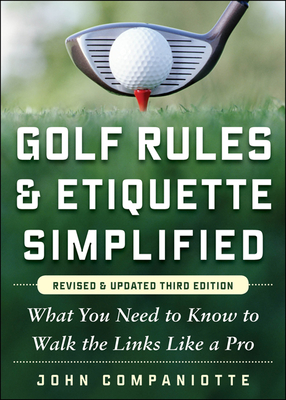 Description
---
An easy-reference guide for you to learn the p's and q's of the green
Written by a veteran golf writer, Golf Rules & Etiquette Simplified is the on-the-go guide to making sense of the rules and etiquette of the great game of golf. Small enough to fit in any golf bag, this handy book offers helpful interpretations of the most critical rules and insider tips on how best to benefit from them.
This new edition includes the latest changes to the rules, so you can:
Avoid unnecessary penalties
Find relief from water hazards
Identify the best line of play
Determine when to declare the ball unplayable
Choose the best drop option
Make the most of abnormal ground conditions
Golf Rules & Etiquette Simplified keeps you on course toward your personal best.
About the Author
---
John Companiotte, longtime member of the Golf Writers Association of America, is the author of three previous books on golf. His articles have appeared in numerous periodicals, including Golf magazine, Avid Golfer, and Air Tran Arrivals magazine.