Retaking Rationality: How Cost-Benefit Analysis Can Better Protect the Environment and Our Health (Paperback)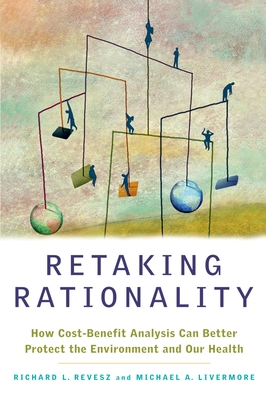 Description
---
That America's natural environment has been degraded and despoiled over the past 25 years is beyond dispute. Nor has there been any shortage of reasons why-short-sighted politicians, a society built on over-consumption, and the dramatic weakening of environmental regulations. In Retaking Rationality, Richard L. Revesz and Michael A. Livermore argue convincingly that one of the least understood-and most important-causes of our failure to protect the environment has been a misguided rejection of reason. The authors show that environmentalists, labor unions, and other
progressive groups have declined to participate in the key governmental proceedings concerning the cost-benefit analysis of federal regulations. As a result of this vacuum, industry groups have captured cost-benefit analysis and used it to further their anti-regulatory ends. Beginning in 1981, the
federal Office of Management and Budget and the federal courts have used cost-benefit analysis extensively to determine which environmental, health, and safety regulations are approved and which are sent back to the drawing board. The resulting imbalance in political participation has profoundly
affected the nation's regulatory and legal landscape. But Revesz and Livermore contend that economic analysis of regulations is necessary and that it needn't conflict with-and can in fact support-a more compassionate approach to environmental policy. Indeed, they show that we cannot give up on
rationality if we truly want to protect our natural environment. Retaking Rationality makes clear that by embracing and reforming cost-benefit analysis, and by joining reason and compassion, progressive groups can help enact strong environmental and public health regulation.

About the Author
---
Richard Revesz is Dean and Lawrence King Professor of Law at New York University School of Law. He graduated summa cum laude in Civil Engineering and Public Affairs from Princeton University, received an M.S. in Civil Engineering from MIT, and was awarded his J.D. by Yale Law School, where he wasthe Editor-in-Chief of the Yale Law Journal. Following judicial clerkships with Chief Judge Wilfred Feinberg of the United States Court of Appeals for the Second Circuit, and Justice Thurgood Marshall of the Supreme Court of the United States, Dean Revesz joined the NYU Law faculty in 1985, receivedtenure in 1990, and was appointed dean in 2002. He has published more than 50 articles and books on environmental and administrative law. His work on issues of federalism and environmental regulation, the valuation of human life and the use of cost-benefit analysis, and the design of liability rulesfor environmental protection has set the agenda for environmental law scholars for the past decade. He was recently inducted into the American Academy of Arts and Sciences. Michael A. Livermore is currently a law clerk to the Honorable Harry T. Edwards at the U.S. Court of Appeals for the D.C. Circuit. He graduated magna cum laude from New York University School of Law, where he was a managing editor of the NYU Law Review. Between 1995 and 2002, Livermore worked forthe New York Public Interest Research Group (NYPIRG) where he was a leading voice of the state's environmental community and helped pass one of the strongest Superfund/Brownfield laws in the country. He has published several pieces of legal scholarship on topics including environmental regulationand international food safety standards. In 2006-2007 Livermore was the postdoctoral fellow at NYU Law's Center for Environmental and Land Use Law.