Hotel Iris: A Novel (Paperback)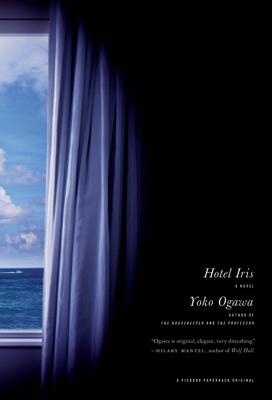 Description
---
A tale of twisted love from Yoko Ogawa—author of The Diving Pool and The Housekeeper and the Professor.

In a crumbling seaside hotel on the coast of Japan, quiet seventeen-year-old Mari works the front desk as her mother tends to the off-season customers. When one night they are forced to expel a middle-aged man and a prostitute from their room, Mari finds herself drawn to the man's voice, in what will become the first gesture of a single long seduction. In spite of her provincial surroundings, and her cool but controlling mother, Mari is a sophisticated observer of human desire, and she sees in this man something she has long been looking for.

The man is a proud if threadbare translator living on an island off the coast. A widower, there are whispers around town that he may have murdered his wife. Mari begins to visit him on his island, and he soon initiates her into a dark realm of both pain and pleasure, a place in which she finds herself more at ease even than the translator. As Mari's mother begins to close in on the affair, Mari's sense of what is suitable and what is desirable are recklessly engaged.

Hotel Iris is a stirring novel about the sometimes violent ways in which we express intimacy and about the untranslatable essence of love.
About the Author
---
Yoko Ogawa is the author of The Diving Pool, The Housekeeper and the Professor, and Hotel Iris. Her fiction has appeared in The New Yorker, A Public Space, and Zoetrope. Since 1988 she has published more than twenty works of fiction and nonfiction, and has won every major Japanese literary award. Her novel The Housekeeper and the Professor has been adapted into a film, The Professor's Beloved Equation. She lives in Ashiya, Japan, with her husband and son.
Praise For…
---
"Ogawa is original, elegant, very disturbing." —Hilary Mantel, author of WOLF HALL

"I've been telling everyone about this book. . . . It's a story about love, which is quite different from a love story. It's one of the most beautiful novels." —Junot Diaz on The Housekeeper and the Professor

"Gorgeous, cinematic. . . This novel has all the charm and restraint of any by Ishiguro or Kenzaburo Oe, and the whimsy of Murakami." —Los Angeles Times on The Housekeeper and the Professor

"Strangely charming, flecked with enough wit and mystery to keep us engaged throughout." —The Washington Post Book World on The Housekeeper and the Professor

"Still waters run dark in these bright yet eerie novellas, whose crisp, almost guileless prose hides unexpected menace." —The New York Times Book Review on The Diving Pool

"Exquisitly disturbing . . . Ogawa steadily builds the tension to an unexpected crescendo." —Elle on The Diving Pool

"Ogawa writes in a lean, muscular way that goes deep, exploring how malevolence coexists with everyday impulse. . . . She creates a memorable unease." —Los Angeles Times on The Diving Pool
Coverage from NPR