Ever After High: The Unfairest of Them All (Paperback)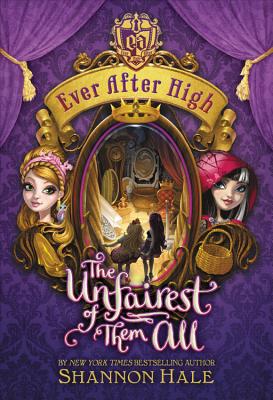 Other Books in Series
This is book number 2 in the Ever After High series.
Description
---
It's the aftermath of Legacy Day, the day when the students at Ever After High are supposed to pledge to follow in their fairytale parents' footsteps, and everyone is in a
huff
and a
puff
! Raven Queen, daughter of the Evil Queen, has refused to sign the Storybook of Legends, rejecting her story--and putting everyone else's in jeopardy.
The Royal Apple White doesn't want to think Raven is being a rebellious pain, but Raven's choice means Apple might never get the poisoned apple, Prince Charming, and a kingdom to rule. Behind Apple stands the Royals, those who want to play by the book and embrace their stories. The Rebels, supporters of Raven, believe in breaking free from destiny and writing their own stories.
But when the chaos and rivalry land wonderlandiful Madeline Hatter in trouble, Raven and Apple must bring the Royals and the Rebels together to shut the book on their feud before it threatens to end all of their Happily Ever Afters once and for all.
Mirror, Mirror on the Wall...Who'e the Unfairest of Them All?
Don't miss Book #1, Ever After High: The Storybook of Legends!
About the Author
---
New York Times best-selling author Shannon Hale knew at age ten it was her destiny to become a writer. She has quested deep into fairytales in such enchanting books as The Goose Girl, Book of a Thousand Days,Rapunzel's Revenge, Newbery Honor winner Princess Academy and Ever After High: The Storybook of Legends. With the princely and valiant writer Dean Hale, Shannon co-authored four charming children, who are free to follow their own destinies. Just so long as they get to bed on time.
Praise For…
---
Praise for Ever After High: Storybook of Legends:
"What's a girl to do when her mother is the fairy-tale world's worst evil queen? Follow in her footsteps? Never!

At the beginning of this series opener, it's the first day of school at Ever After High, where the offspring of famous fairy-tale characters begin their second year. For these students, Legacy Day beckons, at which time each will sign the Storybook of Legends and take the pledge to replay their parents' roles. Once they ink their names, the stories they spring from will be safely preserved, but if one does not, rumors have it that the tale-as well as the student-will vanish in a posthaste "poof." Most are all aflutter to fulfill their requisite destinies, but Raven Queen, the daughter of the exquisitely wicked Evil Queen, doesn't have an evil bone in her body. If she signs, she is duty-bound to poison Apple White (Snow's daughter), but she wants to create her own future. When Raven discovers that two fairy-tale sisters long ago broke their pledge, she enlists the sleuthing skills of her wacky roommate, Madeline (as in Hatter), and Apple herself to unravel the sisters' ultimate fate. Hale has created a delightfully revamped, newly fashioned cast of fairy-tale characters (and in hipper clothes no less-unsurprising, as the book introduces a new line of Mattel dolls) and gives readers a terrific protagonist to root for. Magic and humor abound, and fairy-tale wordplay flies.

Royal good fun."


—
Kirkus Reviews