All the Way: My Life in Four Quarters (Large Print / Hardcover)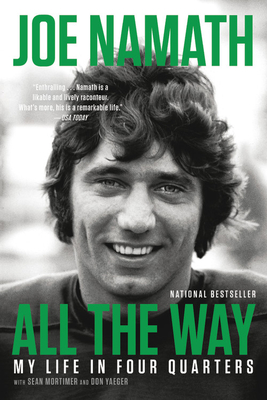 $32.00

Usually Ships in 2-3 Days
Description
---
The NFL icon who first brought show business to sports shares his life lessons on fame, fatherhood, and football.

Three days before the 1969 Super Bowl, Joe Namath promised the nation that he would lead the New York Jets to an 18-point underdog victory against the seemingly invincible Baltimore Colts. When the final whistle blew, that promise had been kept.

Namath was instantly heralded as a gridiron god, while his rugged good looks, progressive views on race, and boyish charm quickly transformed him - in an era of raucous rebellion, shifting social norms, and political upheaval - into both a bona fide celebrity and a symbol of the commercialization of pro sports. By 26, with a championship title under his belt, he was quite simply the most famous athlete alive.

Although his legacy has long been cemented in the history books, beneath the eccentric yet charismatic personality was a player plagued by injury and addiction, both sex and substance. When failing knees permanently derailed his career, he turned to Hollywood and endorsements, not to mention a tumultuous marriage and fleeting bouts of sobriety, to try and find purpose. Now 74, Namath is ready to open up, brilliantly using the four quarters of Super Bowl III as the narrative backbone to a life that was anything but charmed.

As much about football and fame as about addiction, fatherhood, and coming to terms with our own mortality, All the Way finally reveals the man behind the icon.
About the Author
---
Joe Namath is a former American football quarterback and Hollywood actor. He played for the New York Jets for most of his professional football career and played his final season with the Los Angeles Rams. He was elected to the Pro Football Hall of Fame in 1985.
Praise For…
---
"Even casual sports fans will find this an enthralling read. For all his flaws - and the author does not hide them - Namath is a likable and lively raconteur. What's more, his is a remarkable life. He not only beat the Colts, he whooped alcoholism, evolved into a doting grandfather and endures the many side affects of gridiron fame with nary a complaint."
—
USA Today
"So here we have it: a
reflective football icon-76 years old, incredibly-and an elder statesman...he tells a good yarn, guaranteed."
—
The Wall Street Journal
"As exciting as it is personal."
—
247Sports
"I have read everything about Namath for years....But this new book is different, better than all of the ones before it in a sense.
All the Way: My Life in Four Quarters
is told in Namath's words. And those words are powerful and instructive.—
Ron Cook, Pittsburgh Post-Gazette
"A pleasure for fans who remember way back to Namath's glory days-and an entertainment for those who are new to the gridiron hero."
—
Kirkus
"Namath is refreshingly candid throughout...[his] razor-sharp recollections bring a bygone era of football to vivid life in this illuminating volume."
—
Publishers Weekly