Inside the Empire: The True Power Behind the New York Yankees (Paperback)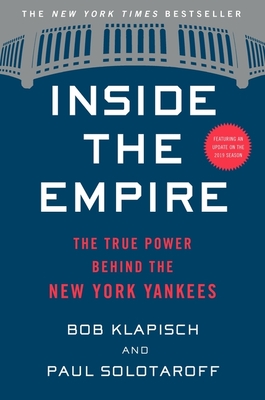 Description
---
NEW YORK TIMES BESTSELLER

A riveting look at what is really said and done behind closed doors with the New York Yankees, the most famous and wealthiest sports franchise in the world
 
Using the 2018 baseball season as the backdrop, Inside the Empire gives readers the real, unvarnished "straight-from-the-gut" truth from Brian Cashman, Aaron Boone, Giancarlo Stanton, C.C. Sabathia—even Hal Steinbrenner and Randy Levine—and many more.
 
This is baseball's version of HBO's award-winning NFL series Hard Knocks. Klapisch and Solotaroff take you deep into the Yankees clubhouse, their dugout, and the front office, and pull back the curtain so that every fan can see what really goes on.

Bottom line? You may think you know everything about the storied franchise of the New York Yankees and what makes them tick. But Inside the Empire will set the record straight, and drop bombshells about iconic figures along the way. There's never been a baseball book quite like it.
About the Author
---
BOB KLAPISCH has covered baseball for the New York Post, New York Daily News, and Bergen Record as well as ESPN, FOX Sports and USA Today. His work has appeared in Sports Illustrated, Rolling Stone and Men's Journal. Klapisch has won several Top-5 awards in the prestigious Associated Press Sports Editors contest and appears regularly on MLB Network. A graduate of Columbia University, where he played varsity baseball, Klapisch continues to pitch in the semi-professional Metropolitan League in Bergen County. He and his family live in Westwood, NJ.

PAUL SOLOTAROFF has been a senior writer at Rolling Stone for twenty-five years (and at Men's Journal for almost twenty). He covered the NFL concussion scandal, including the Aaron Hernandez story, was the first to report the horror-show conditions at Walter Reade Hospital, and has written a series of stories that helped free innocent men who were doing life without parole in state prisons. Winner of two Genesis Awards and more than a half-dozen selections to the Best American Sports Writing anthologies, Solotaroff is a Pulitzer Prize and National Magazine Award finalist. Six of his earlier stories were optioned for TV dramas or films, including "Original Gangster," "The Fixer," "Living the Vida Macho," "Not Guilty," and "The Gangster in the Huddle." This year, four of his stories will be reborn as TV series or prestige documentaries on Netflix, Showtime, the USA network, and Facebook View.
Praise For…
---
A NEW YORK TIMES BESTSELLER

"Inside the Empire gives baseball fans a rare, behind-the-scenes look at the 2018 New York Yankees season. But more than just a clubhouse diary, the book is dead-on in its depiction of a general manager's daily life and the many decisions that go into building a playoff team. Bob Klapisch and Paul Solotaroff's combined experience and engaging writing style make this book a fantastic read for anyone who follows the game."
—BILLY BEANE, Executive Vice President of Baseball Operations, Oakland Athletics
 
"Fans might think they are knowledgeable about the Yankees players, field staff, and front office. But Inside the Empire takes readers to another level—behind the scenes in the clubhouse and executive suites. It's entertaining, riveting, and totally enlightening. Couldn't put it down."
—KEN ROSENTHAL,Insider at The Athletic, FOX, MLB Network

"The caps and jerseys never change, but these aren't the same old Yankees. With unprecedented access and penetrating insights, Inside the Empire illuminates the reimagined Bronx Bombers—Brian Cashman's smarter, sleeker operation that just might dominate the game, if only the hated Red Sox didn't do it even better. You might think you know these Yankees, but with Bob Klapisch and Paul Solotaroff as your tour guides, you're in for a lot of surprises, and a rollicking fun read."
—TYLER KEPNER,national baseball writer for the New York Times

"Inside the Empire is so much more than a baseball story. It burrows deep into the DNA of the most iconic team in American sports and offers an unsparing portrait of the New York Yankees and their delicate balance between moneyed monolith and quintessential modern organization. Bob Klapisch and Paul Solotaroff marry access, insight, and humor with a critical eye that reveals a never-before-seen side of a franchise in the midst of sweeping changes."
—JEFF PASSAN,ESPN Insider and best-selling author of The Arm
 
"Inside the Empire pops open the hood of how the Yankees are run and gives us a rare peek at the machinery."
—TOM VERDUCCI, New York Times best-selling author

"The first must-read of the baseball season. Some excellent behind-the-scenes reporting from cover to cover."
—MIKE VACCARO, New York Post