Gwynne's Grammar: The Ultimate Introduction to Grammar and the Writing of Good English (Hardcover)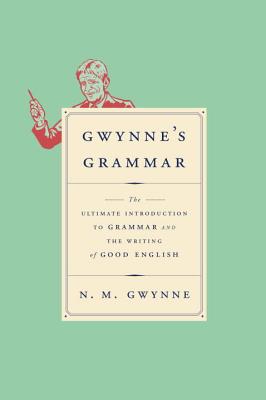 Description
---
Anxious about apostrophes?
 
In a pickle over your pronouns and prepositions?
 
Fear not—Mr. Gwynne is here with his wonderfully concise and highly enjoyable book of grammar.
 
Within these pages, adults and children alike will find all they need to rediscover this lost science and sharpen up their skills.
 
Mr. Gwynne believes that happiness depends at least partly on good grammar—and Mr. Gwynne is never wrong.
About the Author
---
In the 1980s, on retirement from a successful career as a businessman in London and Australia N.M. Gwynne gradually took up teaching, at first privately. He soon found that he had a clear vocation and he discovered a real demand for his traditional methods, universal up to the 1960s but since displaced by new-fangled theories of learning. And so Mr Gwynne began to ply his trade in classrooms and lecture halls teaching a diverse range of subjects: English, Latin, Greek, French, German, mathematics, history, classical philosophy, natural medicine, the elements of music, even "How to start and run your own business." Now with an international word-of-mouth reputation, Mr Gwynne has been flown around the world in order to teach his pupils privately. And thanks to the Internet and Skype, he has sometimes found himself, within a single day's time, teaching children and adults in India, in Europe and the western United States.
Praise For…
---
"[A] sprightly handbook . . . The examples are lively, the advice direct and confident. Some of it, once heard, won't be forgotten . . . Gwynne's certainty is infectious. When it comes to matters of language, people want order, clarity, and wit, not mushiness . . . The coercions of political correctness sway him not at all, and the sentimentality that urges us to respect the will and creativity of individuals, especially children, is altogether ousted . . . Therein lies the pleasure of the text. Not only does it reject the liberalization of usage, it counterattacks."
—Mark Bauerlein, First Things

"Mr. Gwynne is unflinchingly, unapologetically rear-guard . . . The personality of its author is not the least attraction of Gwynne's Grammar . . . [a book] with not the least wisp of dumbing-down in his composition . . . [He] does not deny that grammar can be hellishly complicated . . . [and] his definitions – terse, logical, precise – are among the best things in the book . . . I feel a certain elegance in what I have been taught and still take to be correct English."
—Joseph Epstein, The Wall Street Journal

[Gwynne] is more in the mold of an 18th- or 19th-century grammarian than a modern-day prescriptivist . . . [His appeal ] has been less about the rules themselves and more about his ability to invoke pre-1960s, cold-shower rigor . . . For hundreds of years, English-speakers have reveled in scolding each other and being scolded about language . . . In another century someone may be quoting Gwynne with equal fondness, while our great-grandchildren take pleasure in getting scolded all over again… Gwynne's Grammar has its undeniable pleasures."
—Britt Peterson, The Boston Globe

"Warm and utterly self-assured . . . Refreshingly opinionated . . . [Gwynne] is an unashamed prescriptivist . . . [and his] judgment is unambiguous . . . It doesn't matter how many academic linguists tell us that language changes over time . . . Educated people still want to know whether they should write 'amuck' or 'amok,' 'between' or 'among'."
—Barton Swaim, The Weekly Standard

"Dynamite to modern, child-centered education: a guide to the forgotten rudiments of the English Language."
—Elizabeth Grice, Daily Telegraph
 
"Curious and brilliant . . . it is wonderful that his crisp, lucid book has at last been embraced by the many."
—Charles Moore, The Spectator
 
"Witty, engaging and highly educational stuff."
—Times Educational Supplement
 
"A very useful, pertinent summary and it deserves both to be used and enjoyed."
—Tony Little, head master, Eton College
 
"Invaluable."
—Writing Magazine