The Last Shift: Poems (Paperback)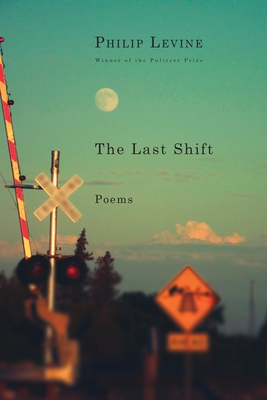 Description
---
Now in paperback--the final collection of new poems from one of our finest and most beloved poets.

The poems in this wonderful collection touch all of the events and places that meant the most to Philip Levine. There are lyrical poems about his family and childhood, the magic of nighttime and the power of dreaming; tough poems about the heavy shift work at Detroit's auto plants, the Nazis, and bosses of all kinds; telling poems about his heroes--jazz players, artists, and working people of every description, even children. Other poems celebrate places and things he loved: the gifts of winter, dawn, a wall in Naples, an English hilltop, Andalusia. And he makes peace with Detroit: "Slow learner that I am, it took me one night / to discover that rain in New York City / is just like rain in Detroit. It gets you wet." It is a peace that comes to full fruition in a moving goodbye to his home town in the final poem in the collection, "The Last Shift."
About the Author
---
PHILIP LEVINE was born in 1928 in Detroit and graduated from Wayne University (now Wayne State University). After a succession of industrial jobs, he attended the writing workshop at the University of Iowa, where he received an MFA in 1957. He settled in Fresno, California, where he taught at the state university until his retirement, and afterward served as poet-in-residence at New York University for more than a decade. He received many awards for his books of poems, including two National Book Awards--in 1980 for Ashes: Poems Old and New, and in 1991 for What Work Is--and the Pulitzer Prize in 1995 for The Simple Truth. In 2011 he was appointed poet laureate of the United States. He died in 2015.
Praise For…
---
"The surprise of Levine's last book [of poems] is not just how much he continues to be preoccupied with Detroit and Spain, but how good-natured and playful some of these last poem are. . . . He saw the life around us clearly. That clarity . . . comes from his extraordinary empathy, whether for an old typewriter, the women who clean offices at night, or the mice looking for something to eat."—Charles Simic, The New York Review of Books

"The great American poet Philip Levine walked from the streets of Detroit to the fields of Fresno trying to make sense of the seemingly senseless, celebrating the truly forgotten men and women of our society, in sharp contrast to the cheap slogans, dog whistles and empty rhetoric of the day. . . . Poet, polemicist, teacher, truth teller . . .  his words are here to guide us. Will we listen?" —Paul Wilner, San Francisco Chronicle

"A long, subtle goodbye; the speaker recalls scenes from his working-class background in Michigan and the places and people that shaped his writing . . . Raises questions about culture, power, poverty and art, before turning back to more personal struggles." —Elizabeth Lund, The Washington Post
 
"This stunning final collection is one more reminder that Philip Levine is irreplaceable . . . The meditative music of Levine's deeply thoughtful, elegiac poetry will echo in the literary memory of this country." —Laverne Firth, New York Journal of Books

"With rare generosity of spirit, Levine celebrated a working class that has largely disappeared. His poems are ghostly reminders of decades of what once was ordinary life . . . A plainspoken and eloquent final collection." —BBC

"In this potent, subtly liberated, consciously final collection, Levine looks back over his life with awe, wry bemusement, and elegiac imagination . . . The past was Levine's wellspring, and he evokes its depths with boundless gratitude in the magnificent, transcendent, closing poem, "The Last Shift," in which everything goes quiet, still, and dark." —Donna Seaman, Booklist

"In this posthumous collection of new poems, Levine extends the content of his American working-class poetics both to look back at his past and to push himself to reckon with the future . . . Wonderful." —Publishers Weekly

"Pleasingly thought-provoking . . . Levine continues to be a vivid chronicler of life inside the industrial, blue-collar, rustbelt America of his early years, in the mid-twentieth century." —Charlie Rossiter, Poetry Spoken Here