Coaching Volleyball for Dummies (Paperback)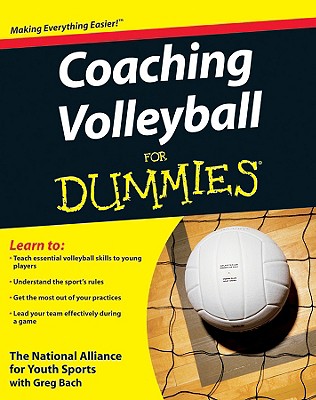 $19.99
Usually Ships in 2-3 Days
Description
---
Your hands-on guide to coaching youth volleyball
Have you been asked to coach a youth volleyball team? This friendly, practical guide helps you grasp the basics and take charge on the court. You get expert advice on teaching key skills to different age groups, running safe and effective practices, helping struggling players, encouraging good sportsmanship, and leading your team with confidence during a match.
Lay the groundwork for a great season -- develop your coaching philosophy, run an effective preseason meeting, and get up to speed on the rules and terminology of the sport

Build your team -- size up the players, find roles for everyone to succeed in, and coach all different types of kids

Teach the basics of volleyball -- from serving and passing to setting, attacking, and blocking, instruct your players successfully in all the key elements

Raise the level of play -- teach more advanced offensive and defensive skills and keep your kids' interest in volleyball going strong

Make the moms and dads happy -- work with parents to ensure a successful and fun season

Score extra points -- keep your players healthy and injury free, resolve conflicts, and coach a volleyball club team
Open the book and find:
Clear explanations of the game's fundamentals

An assortment of the sport's best drills

The equipment your team needs

Player positions and their responsibilities

Tips for running fun-filled practices

Refinements for your coaching strategies

How to meet players' special needs

Ten ways to make the season memorable
About the Author
---
The National Alliance for Youth Sports is America's leading advocate for positive and safe sports for children. It provides a wide range of programs for coaches, administrators, officials, parents, and young athletes. Greg Bach is the Director of Communications for the Alliance.