Another Word a Day: An All-New Romp Through Some of the Most Unusual and Intriguing Words in English (Paperback)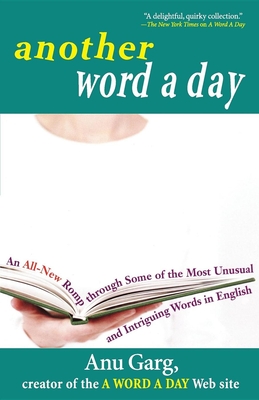 Description
---
A smorgasbord of surprising, obscure, and exotic words
In this delightful encore to the national bestseller A Word A Day, Anu Garg, the founder of the wildly popular A Word A Day Web site (wordsmith.org), presents an all-new collection of unusual, intriguing words and real-life anecdotes that will thrill writers, scholars, and word buffs everywhere. Another Word A Day celebrates the English language in all its quirkiness, grandeur, and fun, and features new chapters ranging from "Words Formed Erroneously" and "Red-Herring Words" to "Kangaroo Words," "Discover the Theme," and "What Does That Company Name Mean?" In them, you'll find a treasure trove of curious and compelling words, including agelast, dragoman, mittimus, nyctalopia, quacksalver, scission, tattersall, and zugzwang. Each entry includes a concise definition, etymology, and usage example, interspersed with illuminating quotations.
Praise for a word a day
"Anu Garg's many readers await their A Word A Day rations hungrily. Now at last here's a feast for them and other verbivores. Eat up "
--Barbara Wallraff, Senior Editor at The Atlantic Monthly and author of Word Court
"AWADies will be familiar with Anu Garg's refreshing approach to words: words are fun and they have fascinating histories."
--John Simpson, Chief Editor, Oxford English Dictionary
About the Author
---
ANU GARG is the founder of wordsmith.org, an online community of more than 600,000 word lovers in 200 countries, now in its twelfth year. He is the author of the bestselling book A Word A Day (Wiley). Garg speaks frequently about words and language internationally.