Fearless & Determined: An epic solo cycling journey from Nevada to Alaska (Paperback)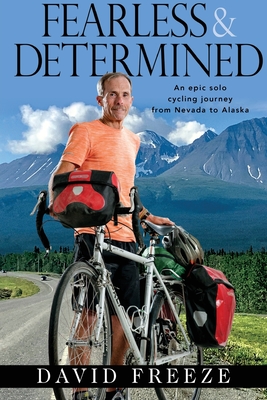 $13.95
Usually Ships in 2-3 Days
Description
---
Just two states remain. Never one to take the easy way, David decides to ride from Nevada and go grab Alaska on his way to 50 states cycled. He rides through parts of California, Oregon and Washington again, this time south to north, continuing on into British Columbia and the Yukon.
Encountering wilderness and wildlife, long miles between supply points and challenges galore, David gets as much as he wants on this 3,174-mile trip. He spends 39 days on the bike and averages more than 81 miles a day over mountainous and remote terrain. At an average of 10 miles an hour, David meets a continuous stream of cyclists from other countries, and plenty of interesting folks otherwise. He pushes on to Alaska, America's -- and his -- 49th state.
David's faith carries him through bear encounters, weather extremes, worsening road conditions and something called wild camping. Spectacular scenery, possibly more than any other of his cycling adventures, is as common as battling mosquitos and huge flies.
Ride with David once again as he details his adventures with humor and an easygoing, down-to-earth style, just as if you were on the bike seat next to him.