The Living Sea of Waking Dreams: A novel (Hardcover)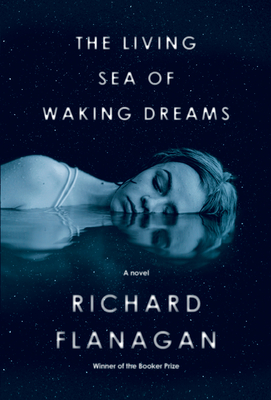 Staff Reviews
---
Anna and her two brothers attend the bedside of their ailing mother in Tasmania while in the background the continent of Australia burns. Tommy had been caring for her until his two elder siblings, well-off, successful, self-assured, fly in and, in part due to their guilt over their long absence, almost immediately insist on increasingly extreme measures to ward off their mother's death. This cruel familial landscape is set against the nightmarish backdrop of disappearing species and endless fires—a world in which people look at their phones incessantly, never at one another. Anna's body parts begin to disappear as well, first a hand, then a knee, a breast…yet almost no one notices. As a metaphor for the fractured nature of our technology-driven lives, the invisibility in which we cloak one another due to our fixation on machines, the rapid diminishment of flora and fauna, Anna's (and others') vanishing limbs are horrifically effective. No easy book to read, this vision of the endgame that is dangerously close to our present reality is harrowing, the closely parsed and painful relationships among the siblings and their mother—a quietly magnificent character—at once shattering and salvific. As clear-eyed a portrayal of death and dying in today's misbegotten world as I've read, this glimpse into the inferno pits our blindness to beauty and to love against their power to heal—or at least to offer hope. A magnificent and (if with anguish on the reader's part) life-changing novel.
— From
Betsy Burton
Description
---
From the acclaimed Booker Prize-winning author comes a dazzling novel of family, love and love's disappointments

Anna's aged mother is dying. Condemned by her children's pity to living, subjected to increasingly desperate medical interventions, she turns her focus to her hospital window, through which she escapes into visions of horror and delight. When Anna's finger vanishes and a few months later her knee disappears, Anna too feels the pull of the window. She begins to see that all around her, others are similarly vanishing, yet no one else notices. All Anna can do is keep her mother alive. But the window keeps opening wider, taking Anna and the reader ever deeper into an eerily beautiful story of grief and possibility, of loss and love and orange-bellied parrots.
Hailed on publication in Australia as Richard Flanagan's greatest novel yet, The Living Sea of Waking Dreams is a rising ember storm illuminating what remains when the inferno beckons: one part elegy, one part dream, one part hope.
About the Author
---
RICHARD FLANAGAN's seven novels have received numerous honours and are published in forty-two countries. He won the Commonwealth Book Prize for Gould's Book of Fish and the Man Booker Prize for The Narrow Road to the Deep North. He lives in Tasmania.
Praise For…
---
"Flanagan is one of our greatest living novelists, able to tackle material so wrenching that you can't stop reading." —Bethanne Patrick, Washington Post

"Like Richard Powers's The Overstory, this is a timely, unforgettable work of climate fiction." —Booklist (starred)

"The Living Sea of Waking Dreams, like Jonathan Franzen's best novels, quietly traces a societal rift around wealth and what amounts to a 'good life' . . . In the end, like Flanagan's best work the novel grounds itself in humane ideals. Love. Hope. Dignity." —New York Times Book Review

"What an astonishing book this is . . . Masterful . . . This novel is a revelation and triumph, from a writer demonstrating, yet again, the depths of his talent, while revelling in a new, unfamiliar register. It is at once timely and timeless, full of despair but leavened by hope, angry and funny and sad and a bit magical." —Sydney Morning Herald

"Unforgettable . . . Flanagan shines in his fierce, surrealistic look at a family's dissolution in a recognizable if dystopian Australia that's ravaged by wildfires." —Publishers Weekly (starred)

"Superb . . . It is a remarkable book and it serves Literature in the most insistent, dedicated, and demanding manner. Any novelist writing at this moment should write in such a way that no reader can remain indifferent or feign ignorance of our role in the subjugation of the world . . . Flanagan's novel is brave enough to say It's not about us any more. It really isn't."—Joy Williams, Book Post

"One of the most profound, moving novels I've ever read, a true masterpiece."—Cherilyn Parsons, LitHub
 
"Peculiar and bewitching . . . The Living Sea of Waking Dreams is a powerful rumination on frailty and mortality."—Sarah Rachel Egelman, Book Reporter

"Writers the world over are grappling with a version of this question: in the face of so much devastation, so much terror, what can fiction possibly achieve? The Living Sea of Waking Dreams is Flanagan's emphatic, wrenching answer." —Guardian Australia

"Like Richard Powers's The Overstory, this is a timely, unforgettable work of climate fiction." —Booklist (starred)

"A fiercely well-observed account of the psychological twists and turns, the stress points and the double-binds of familial love." —Daily Telegraph

"His prose has a pyrotechnic brilliance." —Mail on Sunday

"The brilliance of Flanagan's story and the deep power of this novel is in our witnessing of the end of the world . . . In The Living Sea of Waking Dreams it is a matriarch rather than a patriarch slowly, messily and unevenly passing out of the world [but] in this respect Flanagan's novel resembles Jonathan Franzen's The Corrections or HBO's Succession." —The Conversation
 
"Utterly dazzling." —SFX

"It concludes, astonishingly for a story about our flaws, our blindnesses—the individual and collective fiasco that has brought us to this point—with a message of hope." —The Weekend Australian