The Perfect Mile: Three Athletes, One Goal, and Less Than Four Minutes to Achieve It (Hardcover)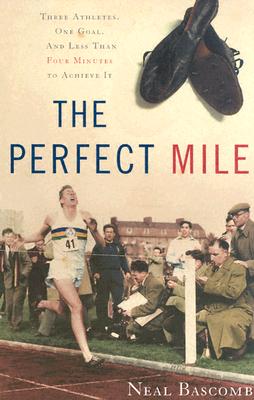 Description
---
There was a time when running the mile in four minutes was believed to be entirely beyond the limits of human foot speed. And in all of sport it was the elusive holy grail. In 1952, after suffering defeat at the Helsinki Olympics, three world-class runners set out individually to break this formidable barrier. Roger Bannister was a young English medical student who epitomized the ideal of the amateur -- still driven not just by winning but by the nobility of the pursuit. John Landy was the privileged son of a genteel Australian family, who as a boy preferred butterfly collecting to running but who trained relentlessly in an almost spiritual attempt to shape his mind and body to this singular task. Then there was Wes Santee, the swaggering American, a Kansas farm boy and natural athlete who believed he was just plain better than everybody else.
Santee was the first to throw down the gauntlet in what would become a three-way race of body, heart, and soul. Each young man endured thousands of hours of training, bore the weight of his nation's expectations on his shoulders, and still dared to push to the very limit. Their collective quest captivated the world and stole headlines from the Korean War, the atomic race, and such legendary figures as Edmund Hillary, Willie Mays, Native Dancer, and Ben Hogan. Who would be the first to achieve the unachievable? And who among them would be the best when they raced head to head? In the answer came the perfect mile.
In the tradition of Seabiscuit and Chariots of Fire, Neal Bascomb delivers a breathtaking story of unlikely heroes and leaves us with a lasting portrait of the twilight years of the golden age of sport.
Praise For…
---
The Perfect Mile returns the reader to a time when a sporting ideal was not an oxymoron . . . Enthralling.
The New York Times Book Review

A rare literary win... Bascomb has penned a sports tribute book that transcends the genre.
The Oregonian

A splendid book... Well-written, suspenseful.
St. Louis Post-Dispatch

A vivid human-interest story... Engrossing, excruciating, and exhilarating.
Boston Herald

A fine, gripping book.
The Chicago Sun-Times

A marvelous book.
Kansas City Star

A thriller.... This being an Olympic year, The Perfect Mile comes just in time to remind us what being an athlete can, and should, be about.
Newsday

The Perfect Mile captures the awe-inspiring quality of ordinary men who achieve what had been thought impossible.
TimeOut New York

Captivating.... Much joy and inspiration to be found here.
Entertainment Weekly

Compelling human drama. [Bascomb's] crisp, detailed narrative helps readers step into the milers' spikes. A resplendent story of an epic event in sports history.
Christian Science Monitor

Bascomb delivers, with stylish and swift prose well matched to the subject... This is an agile and informative read, and we should compare Hillebrand's "Seabiscuit" to it, not the other way around.
MSNBC.com

In masterly fashion, Bascomb re-creates the battle of the milers, embellishing his account with fascinating forays into runner's lore... It's a mark of Bascomb's skill that, although the outcome of the race is well known, he keeps us in suspense, rendering in graphic detail the runners' agony down the final stretch.
The New Yorker