Beyer on Speed: New Strategies for Racetrack Betting (Paperback)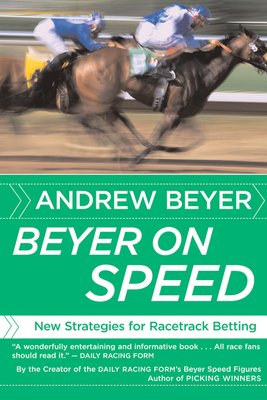 Description
---
No serious horseplayer should be without Beyer on Speed, the third jewel in Andrew Beyer's literary triple crown. Beyer shows the handicapper how to make his Beyer Speed Figures the focal point of a wagering strategy for pursuing spectacular profits by relating speed figures to pace, track bias, and track conditions. He helps bettors utilize new opportunities for picking winners, such as video replays and a successfully structured multirace ticket, whether betting online, on the phone, or at the track.

This invaluable book on wagering includes a new preface by the author, focusing on the role of simulcasting and the Internet in modern-day handicapping. Written in Beyer's entertaining, rapid-fire prose, Beyer on Speed is a must-read for every bettor, from the beginner to the most advanced player.
About the Author
---
ANDREW BEYER thoroughly revolutionized handicapping when he created his "Beyer Speed Figures," a measure of how fast a horse has run in a given race, and an indispensable tool for horseplayers. Making the necessary calculations to develop a set of figures for each horse in each race was too time-consuming for most horseplayers, so in 1992 the Daily Racing Form commissioned Beyer and his associates to provide his speed figures for every horse competing in North America. Beyer has been a columnist for the Washington Post since 1978, and contributes regularly to the Daily Racing Form. He is considered one of the leading experts on horse racing.