Workers Inferno: The untold story of the Esso workers 20 years after the Longford explosion (Hardcover)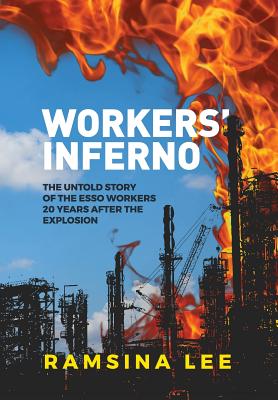 $29.95
Usually Ships in 2-3 Days
Description
---
Workers' Inferno is based on events which took place at an Esso (a subsidiary of Exxon Corporation) operation at Longford, Victoria Australia on 25 September 1998.

Employees were working at the Esso gas production and processing plant, situated at Longford in Sale, when a gas plant ruptured and exploded, killing two of the workers and physically injuring others.
The initial explosion caused numerous other explosions and fires, which took two days to extinguish. Through a proclamation by the State Governor all gas supply, except for critical areas of the state, was shut-off.
This is the untold story of the lives of the workers and their families whose lives were changed forever as a result of the accident and subsequent efforts by the company to blame its workers for the accident during the Royal Commission into the explosion.
Praise for Workers Inferno
"Workers' Inferno is a gripping and emotion-laden account of the tragedy that occurred at the Esso gas plant at Longford, Victoria, in September 1998. Ramsina Lee begins by delving into the happy but sometimes complicated family lives of many of the workers involved in the explosion. Then she describes the confusion, bewilderment and heroism of these workers as the breakdown of the gas plant causes the explosions and fires that rip through the workplace and change their lives forever. Finally, the emotional aftermath of the tragedy tears families apart, leaving a permanent human cost to be borne. I read Workers' Inferno in one sitting, and felt the fears, emotions and bitterness of the workers and their families as an avoidable workplace tragedy that changed the course of human lives. The message of the book is clear -- take workplace health, safety and training seriously so that workers can return home safely to their loved ones at the end of each working day." Joe de Bruyn, National President, Shop, Distributive & Allied Employees Association
"Workers' Inferno is a beautifully written, almost poetic account - passionate, compassionate engrossing and unforgettable." Andrew Hopkins, Emeritus Professor of Sociology, Australian National University, Author of Lessons from Longford: The Esso Gas Plant Explosion
"Ramsina Lee, in this book has, possibly for the first time, not only described the events of the day but also meticulously documented in narrative form, the impact on the lives of some of those that were involved in one of Australia's most prominent industrial disasters. The loss and suffering of the Longford workers and their families was profound. Only now, twenty years after the terror and trauma of that day has the subsequent loss and suffering been accurately portrayed." Jim Ward, Longford Survivor
"Ramsina Lee has very thoughtfully allowed the families of those affected by the Longford gas plant explosion to have a say. She tastefully weaves created scenes and settings with interviews of those directly involved, and their family members. The catastrophic personal events and tragedies of 25 September 1998, the immediate aftermath and the long lasting effects are felt in the heartfelt interviews. The intense love for lives lost and lives forever changed. The callousness of the big corporation and the blatant disregard for the 'scapegoat' and their family. A champion for workplace safety and the preciousness of life and love." Elizabeth Coleman Gray