The Long Program: Skating Toward Life's Victories (Paperback)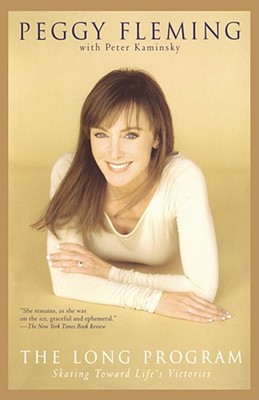 $16.95
Usually Ships in 2-3 Days
Description
---
In all of her roles -- athlete, wife, mother, role model, and cancer survivor -- Olympic gold medalist Peggy Fleming has relied upon the discipline she cultivated as a young skater. Now in this intimate memoir, she eloquently reveals her fascinating life story and shares her secrets to serenity and success.
The long Program
In the 1968 Olympic Winter Games Peggy Fleming not only captured the United States? only gold medal, but a country?s collective heart as well. A young woman who embodied both stunning athleticism and magnificent grace, Peggy Fleming reluctantly became an instant celebrity. In the decades that followed, she also triumphed off the ice -- commentating for ABC Sports and nurturing a long-standing marriage while raising two delightful sons.
But Peggy?s toughest challenge came in 1998 when she was diagnosed with breast cancer. Here, Peggy candidly details her courageous physical and emotional battle. She also explains how she ultimately prevailed, and why she became an outspoken, highly visible promoter of breast cancer awareness. Most important, she relates how every person?s life has its own version of the long program, those precious years that take little girls and turn them into wives, mothers, grandmas, and survivors. A compelling memoir that deserves the highest marks, The Long Program is both a portrait of a remarkable woman and a collection of inspiring lessons on how each of us can be our best.
About the Author
---
Peggy Fleming has won five U.S. figure skating titles, three world titles, and an Olympic gold medal. In 1994, Sports Illustrated named her one of their "40 for the Ages -- 40 individuals who have most significantly altered or elevated the world of sports in the last 40 years." She was the only figure skater and one of four women chosen. She continues to work as an on-air analyst for ABC Sports and has become a national spokesperson for breast cancer awareness. She lives in the San Francisco Bay area with her husband and two sons.
Praise For…
---
People Chatty....Intimate....Another smooth performance.

The New York Times Book Review She remains, as she was on the ice, graceful and ephemeral.

Chicago Sun-Times A feel-good memoir...As Fleming tells about making the transition from champion skater to television star to ABC commentator, she displays the same effortless grace off and on the ice.

Los Angeles Times What makes Fleming's autobiography appealing is her confidence and philosophy toward sports and life....She is adept at delicately broaching awkward, sad, and uncomfortable subjects that would make most people wince.

Booklist This is both an autobiography and a life plan for young women as they segue from youth to maturity...Offers large dollops of common sense, inspiration, and perspiration. There aren't any better role models for women than Fleming.

Publishers Weekly Readers will learn about Fleming personally...She's quite honest, even when discussing painful subjects.

Abilene Reporter-News (TX) A fascinating and intimate memoir.

Grand Rapids Press (MI) A fun trip down memory lane.