Dances With Trout (John Gierach's Fly-fishing Library) (Paperback)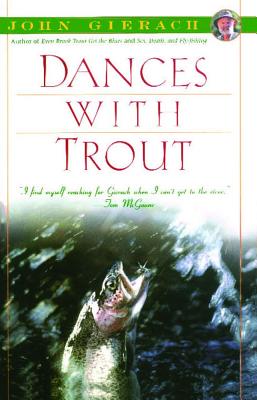 Description
---
Brilliant, witty, perceptive essays about fly-fishing, the natural world, and life in general by the acknowledged master of fishing writers.

With the wry humor and wit that have become his trademark, John Gierach writes about his travels in search of good fishing and even better fish stories. In this new collection of essays on fishing —and hunting—Gierach discusses fishing for trout in Alaska, for salmon in Scotland and for almost anything in Texas. He offers his perceptive observations on the subject of ice-fishing, getting lost, fishing at night, tournaments and the fine art of tying flies. Gierach also shares his hunting technique, which involves reading a good book and looking up occasionally to see if any deer have wandered by.

Always entertaining, often irreverent and illuminating, Gierach invites readers into his enviable way of life, and effortlessly sweeps them along. As he writes in Dances with Trout, "Fly-fishing is solitary, contemplative, misanthropic, scientific in some hands, poetic in others, and laced with conflicting aesthetic considerations. It's not even clear if catching fish is actually the point."
About the Author
---
John Gierach is the author of more than twenty books about fly-fishing. His writing has appeared in Field & Stream, Gray's Sporting Journal, and Fly Rod & Reel. He writes a column for Trout magazine and the monthly Redstone Review. He lives in Lyons, Colorado.
Praise For…
---
Tom McGuane I find myself reaching for gierach when I can't get to the river.

Sports Illustrated If Mark Twain were alive and a modern-day fly-fisherman, he still would be hard put to top John Gierach in the one-liner department.

from Dances with Trout Fly-fishing is solitary, contemplative, misanthropic, scientific in some hands, poetic in others, and laced with conflicting aesthetic considerations. It's not even clear if catching fish is actually the point.

Kirkus Reviews These well-crafted gems sparkle.