Up from Slavery: An Autobiography (Modern Library 100 Best Nonfiction Books) (Paperback)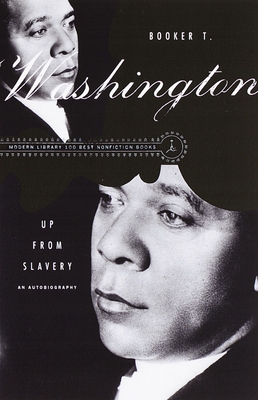 Description
---
Selected by the Modern Library as one of the 100 best nonfiction books of all time

In Up from Slavery, Washington recounts the story of his life—from slave to educator. The early sections deal with his upbringing as a slave and his efforts to get an education. Washington details his transition from student to teacher, and outlines his own development as an educator and founder of the Tuskegee Institute in Alabama. In the final chapters of Up From Slavery, Washington describes his career as a public speaker and civil rights activist.
About the Author
---
Booker Taliaferro Washington, the educator and racial spokesman who remains one of the most controversial figures in African-American history, was born into slavery on a tobacco farm in Franklin County, Virginia, on April 5, 1856. His mother was the plantation's cook; his father was an unknown white man. At the close of the Civil War, Washington moved with his mother and stepfather to the river town of Malden, West Virginia, where he toiled in coal mines and salt furnaces, securing a basic education in his spare time. Later he worked as a houseboy for Mrs. Viola Ruffner, a New England woman who recognized his eagerness to advance himself. In 1872 Washington returned to Virginia to enroll in the Hampton Normal and Agricultural Institute, a vocational school for blacks founded by Samuel Chapman Armstrong, a former Union general. Washington graduated with honors in 1875. Afterward, he taught school in Malden and briefly attended the Wayland Seminary in Washington, D.C., before accepting an invitation from General Armstrong to join the faculty at Hampton.

In 1881 Washington left Virginia for Alabama, to establish the Tuskegee Normal and Industrial Institute. The school opened on July 4, 1881, with one teacher and thirty pupils. Through skillful management, tireless fund-raising, and shrewd diplomacy with whites, he built Tuskegee, literally brick by brick, into the top black trade school in the country. Like his mentor, General Armstrong, Washington made sure that all skills and academic courses taught at Tuskegee had practical application in the economy of the postwar South. A pragmatist, not an idealist, he endorsed the Puritan virtue of self-help, maintaining, "the individual who can do something that the world wants done will, in the end, make his way regardless of his race."

Washington's well-known success as an educator led to his being asked to speak on racial issues. In 1895 he delivered opening remarks at the Cotton States and International Exposition in Atlanta. In the now-famous Atlanta Compromise Address, Washington urged blacks to postpone their demands for equal rights and focus instead on improving themselves through education, industriousness, and racial solidarity. "In all things that are purely social we can be as separate as the fingers, yet one as the hand in all things essential to mutual progress," he stated. The following year Washington became the first black to receive an honorary Master of Arts degree from Harvard University.

By 1900 Washington, the so-called "Wizard of Tuskegee," had emerged as America's most influential black leader. He launched the National Negro Business League in Boston and, in rapid succession, published two volumes of autobiography: The Story of My Life and Work (1900) and Up from Slavery (1901). William Dean Howells praised Up from Slavery in the North American Review, and Langston Hughes later deemed it "one of America's most revealing books." Washington created a storm of controversy, however, when he dined at the White House with President Theodore Roosevelt to discuss political appointments in the South.

In 1903 Washington's accommodationist position came under attack by W. E. B. Du Bois. In The Souls of Black Folk Du Bois wrote: "His doctrine has tended to make the whites, North and South, shift the burden of the Negro problem to the Negro's shoulders and stand aside as critical and rather pessimistic spectators; when in fact the burden belongs to the nation, and the hands of none of us are clean if we bend not our energies to righting these great wrongs." Soon Washington's leadership was challenged by the militant Niagara Movement, founded in 1905, and the National Association for the Advancement of Colored People, which succeeded it in 1910.

Washington maintained a grueling work schedule during his final years. He also toured Europe and brought out two last books, My Larger Education (1911) and The Man Farthest Down (1912). In November 1915, while visiting New York City on business, Washington was hospitalized. Realizing the gravity of his condition, he insisted on returning home. "I was born in the South, have lived all my life in the South, and expect to die and be buried in the South," he often said. Booker T. Washington arrived in Alabama by train only hours before his death on November 14, 1915. He was buried two days later in the small cemetery on the campus of the Tuskegee Institute.