Systems of Survival: A Dialogue on the Moral Foundations of Commerce and Politics (Paperback)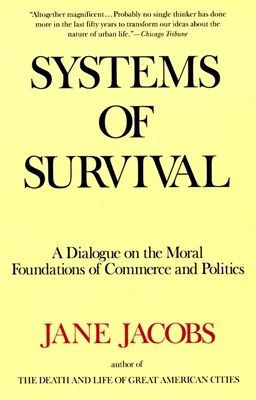 Description
---
With intelligence and clarity of observation, the author of The Death and Life of Great American Cities addresses the moral values that underpin working life.

In Systems of Survival, Jane Jacobs identifies two distinct moral syndromes—one governing commerce, the other, politics—and explores what happens when these two syndromes collide. She looks at business fraud and criminal enterprise, government's overextended subsidies to agriculture, and transit police who abuse the system the are supposed to enforce, and asks us to consider instances in which snobbery is a virtue and industry a vice. In this work of profound insight and elegance, Jacobs gives us a new way of seeing all our public transactions and encourages us towards the best use of our natural inclinations.
About the Author
---
Jane Jacobs was the legendary author of The Death and Life of Great American Cities, a work that has never gone out of print and that has transformed the disciplines of urban planning and city architecture. Her other major works include The Economy of Cities, Systems of Survival, and The Nature of Economies. She died in 2006.
Praise For…
---
"Altogether magnificent . . . Probably no single thinker has done more in the last fifty years to transform our ideas about the nature of urban life." —Chicago Tribune

"[With] piercing analysis, crystalline prose and [a] finely-honed sense of morality, Jacobs covers an amazing amount of ground." —Cleveland Plain Dealer

"Superb . . . Cobbling together a little urban anthropology, a little economic history, and a vast store of highly nuanced personal observations . . . Jacobs is an indispensable provocateur." —Village Voice Literary Supplement