Moving Water: An Artist's Reflections on Fly Fishing, Friendship and Family (Hardcover)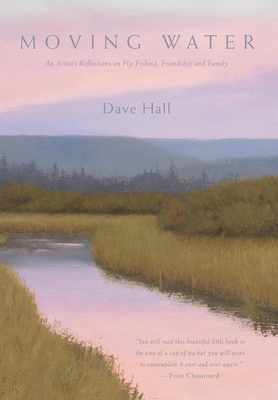 Description
---
Moving Water: An Artist's Reflections on Fly Fishing, Friendship and Family was inspired by a rural New England childhood, by family art, by a lifetime of dawns and dusks, and by the death of a friend who knew where to find the beauty in his life. 42 color images, 20 touching vignettes.
"You will probably read this beautiful little book in the time of a cup of tea but you will want to contemplate it over and over again." --Yvon Chouinard, author of Let My People Go Surfing and Simple Fly Fishing: Techniques for Tenkara and Rod and Reel
"Quietly potent, Moving Water illuminates the mystery and joy of fly fishing. Dave Hall's serene visions and tender touch on the canvas offer refuges of restoration." -- Melanie Rae Thon, author of Silence & Song and The Voice of the River.
"Dave Hall is a painter with his feet and mind in the natural world, a place he knows with uncommon intimacy." --Tom McGuane, author of The Longest Silence and The Cadence of Grasses.
"The paintings are vibrant reminders of the importance of being in the wild. And what deepens Moving Water is the profoundly sparse narratives that read like exquisite haikus. This is a book that everyone should have in his or her collection. It is deep balm for the soul." --Jeff Metcalf, author of The Last Steelhead, Requiem for the Living and Back Cast."
"These stories touch our hearts and souls. And our lives." --Craig Mathews, author of six books on flyfishing, including Western Fly Fishing Strategies.
"The art is at once imaginative and serene. And one always has the feeling there is a story hidden beneath." --Marshall Cutchin, publisher of MidCurrent
"The sensitive words and striking visual make Moving Water a work of uncommon beauty. -- Rene' Harrop, author of Learning from the River
"Moving Water offers insight into what Dave Hall feels when he paints." --Mike Lawson, author of Spring Creeks