Your Simple Guide to Happy and Healthy Feet (Paperback)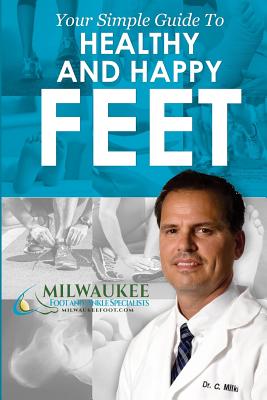 Description
---
Passionate about helping people feel better and healthier, Dr. Milkie and his practice, Milwaukee Foot & Ankle Specialists, use cutting-edge technology and treatment options to heal people's foot conditions quickly and often painlessly. With over 24 years of experience, Dr. Chris Milkie knows all about feet and ankles. The feet are the foundation of the human body, so when there's an issue with the feet, it can easily cause issues throughout the entire body. In this book, you will learn:
What are some of the most common foot problems people have and how are they treated?
What role do shoes play in foot problems and how can these issues be solved?
What could happen if someone doesn't see a podiatrist for a foot issue for weeks, months, or even years?
What are orthotics and why are custom orthotics the best option?
What are some things that could cause foot problems and how can I properly take care of my feet to avoid certain conditions?
Are exams and treatments covered by insurance?
What are some specific foot problems that people can have that need treatment from a podiatrist?
When is surgery necessary to correct foot problems?
What role does circulation play in the health of someone's feet?
What symptoms should someone watch out for to determine whether they need to see a podiatrist?
About the Author
---
Dr. Milkie is passionate about helping people have healthier, happier feet that serve as a solid foundation. For years, Dr. Milkie has expanded and perfected his practice and treatment options with the help of several other specialists with Milwaukee Foot & Ankle Clinic. Their practice has helped thousands of people by treating conditions of the feet that have a tendency to hold people back from living their life to the fullest. You'll learn all about his practice, common ailments, and what makes him and his staff a unique podiatric option in this book. You'll also read specific patient stories and reviews from actual patients whose quality of life has been vastly improved by Milwaukee Foot & Ankle Specialists. To schedule an appointment and get $25 off as a new patient, please call 414-257-0676 or visit www.MilwaukeeFootSpecialists.com