Pacific Crest Trials: A Psychological and Emotional Guide to Successfully Thru-Hiking the Pacific Crest Trail (Paperback)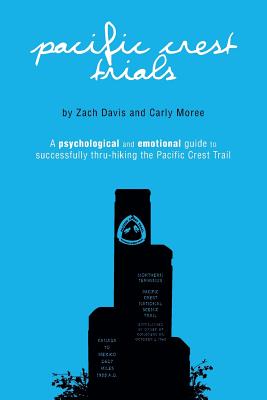 $14.99
Usually Ships in 2-3 Days
Description
---
Thru-hiking the Pacific Crest Trail is 90% mental
. Each year, thousands of backpackers take to the Pacific Crest Trail with the
intention
of successfully thru-hiking the 2,650-mile footpath that extends from Mexico to Canada. Despite months of research, thousands of dollars poured into their gear, and countless hours dedicated to grinding away on the StairMaster,
most
hikers fall short of their goal.
Why?
They neglected to prepare for the most challenging element of a five month backpacking trip. While the PCT presents extraordinary
physical
challenges, it is the
psychological
and
emotional
struggles that drive people off the trail. Conquering these mental obstacles is the key to success. This groundbreaking book focuses on the most important and overlooked piece of equipment of all- the gear between one's ears. Filled with first-hand, touching yet humorous vignettes and down-to-earth advice that both instructs and inspires,
Pacific Crest Trials
gives readers the mental road map they'll need to hike from Mexico to Canada. Following up on his wildly popular guide to thru-hiking the Appalachian Trail in
Appalachian Trials,
Zach Davis has teamed up with 2015 PCT thru-hiker Carly Moree to bring readers the ultimate psychological and emotional guide to prepare for the Pacific Crest Trail. In Pacific Crest Trials readers will learn:
Goal setting techniques that will assure hikers reach Canada
The common early stage pitfalls and how to avoid them
How to beat "the Death of the Honeymoon"
The importance and meaning of "hiking your own hike"
How to adapt amongst drastically different terrains, weather patterns, gear and logistical needs
Five strategies for unwavering mental endurance
How to save money on gear purchases
Tips for enjoying rather than enduring each of the five million steps along the journey
Advice for staving off post-trail depression from one of the country's most respected trail angels
Nutritional guidance for avoiding post-trail weight gain
Additionally, readers will receive an in-depth guide to choosing the right gear for their PCT thru-hike from Triple Crowner,
Liz "Snorkel" Thomas
. In this chapter full of valuable insights, Snorkel walks readers through what features to look for in quality gear, how to save money, how to lessen the load without compromising on safety or comfort, and offers crucial advice on how to properly use and care for your gear. Furthermore, Thomas offers several specific product recommendations, giving readers a helpful head start on their shopping list.
Note:
This is an adaptation of Appalachian Trials. Although this book is written with the Pacific Crest Trail thru-hiker in mind, the principles are largely the same. If you own
Appalachian Trials
do not buy this book. Five percent of the proceeds of your purchase of Pacific Crest Trials will go to the Pacific Crest Trail Association, the non-profit that oversees and protects the Pacific Crest Trail.
About the Author
---
Zach "Badger" Davis is an Appalachian Trail thru-hiker, author, and ginger-bearded adventurer. He was named the Top Hiking and Outdoor Blogger by USA TODAY through his work at AppalachianTrials.com. When he's not running a backpacking website, he's most likely backpacking or drinking beer near his home in Golden, CO. Carly "Papi" Moree is an accomplished backpacker, highlighted by her hikes of the Appalachian Trail and Pacific Crest Trail. She escaped the world of finance in 2013 in pursuit of adventure and hasn't looked back since. Carly leads a vegan lifestyle, practices meditation and yoga daily, and hails from Asheville, NC.