Unnatural Causes (Hardcover)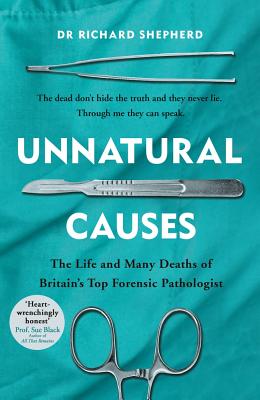 Description
---
Included in The Times Books of the Year 2018

'An absolutely brilliant book. I really recommend it, I don't often say that but it's fascinating' Jeremy Vine, BBC Radio 2

'One of the most fascinating books I have read in a long time. Engrossing, a haunting page-turner. A book I could not put down' The Times

__________
Meet the forensic pathologist, Dr Richard Shepherd.
He solves the mysteries of unexplained or sudden death.
He's a detective in his own right.
And he has one, ultimate and pressing question to answer:
How did this person die?
Unnatural Causes is an unputdownable record of an extraordinary life, a unique insight into a remarkable profession, and above all a powerful and reassuring testament to lives cut short.
__________
Dr Shepherd has faced serial killers, natural disaster, 'perfect murders' and freak accidents, all in the pursuit of the truth.
And while he's been involved in some of the most high-profile cases of recent times, it's often the less well-known encounters that prove the most perplexing, intriguing and even bizarre.
In or out of the public eye, his evidence has put killers behind bars, freed the innocent and turned open-and-shut cases on their heads.
But a life in death, bearing witness to some of humanity's darkest corners, exacts a price and Shepherd doesn't flinch from counting the cost to him and his family.
The dead do not hide the truth and they never lie. Through me the dead can speak . . .

'Puts the reader at his elbow as he wields the scalpel' Guardian
'Fascinating, gruesome yet engrossing' Richard and Judy, Daily Express
'Heart-wrenchingly honest' Professor Sue Black, author of All That Remains

'Fascinating, insightful, candid, compassionate' Observer
About the Author
---
Richard Shepherd trained as a doctor at St George's Hospital medical school at Hyde Park Corner, qualifying in 1977 and then completed his postgraduate training as a forensic pathologist in 1987. He immediately joined what was then the elite forensic department at Guy's Hospital. He has been involved nationally and internationally in the forensic investigation of thousands of deaths from unnatural causes, from headline-making murders to mass natural disasters, and many sudden and unexplained deaths that his investigations showed were from natural causes or due to accidents. His skills and expertise still remain in demand around the world.
Praise For…
---
Unnatural Causes gives a sense of the toll that dealing with so many dead bodies takes. It's a very human book that looks at the cases he has been involved with, from the Hungerford massacre to the murder of Stephen Lawrence - - The Times (Books of the Year, 2018)

One of the most fascinating books I have read in a long time. Engrossing, a haunting page-turner. A book I could not put down - - The Times

Fabulous . . . The UK's top pathologist investigating high-profile deaths such as that of Diana, Princess of Wales - - The Sunday Post

Puts the reader at his elbow as he wields the scalpel - - Guardian

Insightful, candid and compassionate - - Observer

Fascinating, gruesome yet engrossing - - Richard and Judy, Daily Express

Heart-wrenchingly honest - - Professor Sue Black, author of All That Remains

Darkly fascinating - - Daily Mirror

Partly an autobiography, but also a love letter to pathology. It's dignified and graceful and painfully honest about the human and emotional cost of so much time with the dead. Insightful, moving and mesmerising - - Marylebone Journal