The Painting (Paperback)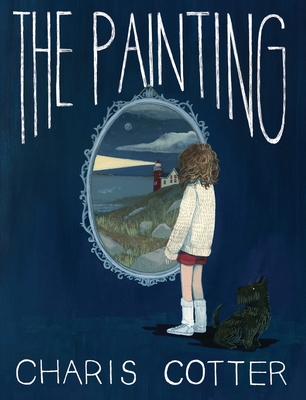 Description
---
A haunting, beautiful middle-grade novel about fractured relationships, loss, ghosts, friendship and art.

Annie and her mother don't see eye to eye. When Annie finds a painting of a lonely lighthouse in their home, she is immediately drawn to it--and her mother wishes it would stay banished in the attic. To her, art has no interest, but Annie loves drawing and painting.

When Annie's mother slips into a coma following a car accident, strange things begin to happen to Annie. She finds herself falling into the painting and meeting Claire, a girl her own age living at the lighthouse. Claire's mother Maisie is the artist behind the painting, and like Annie, Claire's relationship with her mother is fraught. Annie thinks she can help them find their way back to each other, and in so doing, help mend her relationship with her own mother.

But who IS Claire? Why can Annie travel through the painting? And can Annie help her mother wake up from her coma?

The Painting is a touching, evocative story with a hint of mystery and suspense to keep readers hooked.
About the Author
---
CHARIS COTTER grew up beside a cemetery and has been living with ghosts ever since. She studied English in university and went to drama school in London, England. Her spooky, suspenseful novel, The Swallow: A Ghost Story, was nominated for many awards and received countless honors. Her picture book, The Ferryland Visitor: A mysterious tale, is based on a true ghost story experienced by Newfoundland artist Gerald L. Squires and his family when they lived at an abandoned lighthouse in the 1970s. Charis has worked extensively in schools and libraries from coast to coast, using drama and storytelling to bring her books to life. Her performances of Newfoundland ghost stories have thrilled audiences of all ages, from Florida to Vancouver Island. She lives at the end of a road beside the ocean, in one of the most haunted parts of Newfoundland.
Praise For…
---
One of CCBC'S Best Books for Kids & Teens (2018)

"[A] cleverly constructed, compellingly paced mystery that's part time-slip story, part ghost story, part meditation on the power of dreaming. . . . Full of emotional truth and connection." --Kirkus Reviews

"3/4… [T]he mounting tension between Claire and Maisie is painfully believable… Highly recommended." --CM Magazine

"Readers will connect with the characters and fall into the storyline with its focus on artists, loss, and family relationships... Recommended." --School Library Connection

"Moody and atmospheric... the story unfolds at exactly the right pace and is a delicately nuanced tale of secrets, shadows of the past, family ties, heartache and healing." --Atlantic Books Today