Focused for Bowling (Paperback)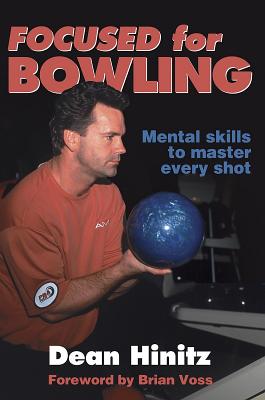 Description
---

It's the final frame. The score is tight. Everything hinges on your very next throw. How do you rise above the din and the distractions to take your seat at the top?
The pressures of the game can make bowling one of the most mentally demanding sports around. In Focused for Bowling, you'll discover focus cues and other attention-centering techniques that can transform your game and keep you from making careless mistakes at critical points. Learn the concepts that professionals use to keep their head in the game when everything is riding on the line.
Focused for Bowling provides proven advice to help you pick up spares more consistently, recover from and avoid slumps, and get more satisfaction from each trip to the alley. From progressive muscle-relaxation techniques to positive self-talk, Focused for Bowling gives you the mental edge you need to make the transition from social bowling to the competitive scene.
Considered the leading authority on bowling psychology, Dean Hinitz is a regular columnist in Bowling This Month. To pick up your game, pick up this book and see why some of the country's most elite competitors trust Hinitz to give them the advice they need for more accurate, confident, and consistent performance when the pressure is on
About the Author
---
Dean Hinitz is considered the leading authority on bowling psychology. He works with several elite competitors, including many champions in the Professional Bowling Association and the Professional Women's Bowling Association. Hinitz is also a regular guest speaker at the highly regarded International Bowling Academy Super Schools and writes a monthly column for Bowling This Month. He is a member of the Nevada State Board of Psychological Examiners and the Nevada State Psychological Association.Hinitz received his undergraduate degree at the University of Minnesota and his PhD in psychology at the University of Nevada. He resides in Reno, Nevada with his wife, Amy Bay-Hinitz. He is the chief of psychology at West Hills Hospital in Reno.