Complete Book of Throws (Paperback)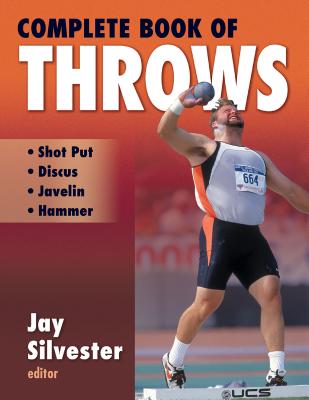 Description
---
From the basic biomechanics of throwing to in-depth information on the discus, javelin, hammer, and shot put, Complete Book of Throws brings it all together to improve your techniques—and your distance!
Complete Book of Throws takes the techniques and conditioning programs of the most accomplished coaches in each event and presents them in a way that athletes can understand and coaches can adapt to create a winning program. Whether you're just starting out in the event or preparing your team for competition at the highest level, you'll find the conditioning and training specifics you need to strength your body, improve your form, and push your performance to the edge.
Four-time Olympian and six-time discus world-record holder Jay Silvester covers specific strength training and conditioning techniques, including training for athletes in multiple throwing events. World-class coaches complete the picture with in-depth coverage of each throw technique. Sport-specific strength conditioning, periodization, and effective energy transfer are all covered in this practical guide, along with detailed illustrations that walk you through every phase of each throw.
In addition to serving as the Olympic throws coach for Team USA 2000, Silvester has coached five NCAA discus champions. Now he leads a team of top-notch coaches in creating the ultimate resource for athletes and coaches alike. If you are seeking to enhance your coaching technique, refine your athletes' technique, or improve their throws, the Complete Book of Throws has the details and instructions you need.

About the Author
---
Jay Silvester was a six-time world-record holder in the discus and competed on multiple U.S. national teams. He was also a member of four Olympic teams ('64, '68, '72, and '76); he won the silver medal in Munich in 1972. He has coached five NCAA discus champions. Silvester is a recently retired professor from the department of physical education at Brigham Young University, where he coached throwing events for 20 years. He has also written two books (Modern Drills for Track & Field-The Throwing Events and Weight Training for Fitness and Strength). Since 1985, Silvester has served as USA Track and Field's discus throw chairman and was the Olympic throws coach for Team USA 2000.
Jeff Gorski was a two-time All-Atlantic Coast Conference performer in the javelin at the University of North Carolina (where he set five school records) as well as a two-time U.S. national finalist. While serving as the throws coach at UNC (1982-86, 1988-91), he coached 23 All-ACC athletes, seven All-Americans, four conference record holders, and all UNC record holders in every throwing event. In 1993, Gorski founded Klub Keihas (Finnish for javelin), a throwers-only athletic club that supports and promotes the throwing events, especially the javelin. Through his coaching efforts in Klub Keihas, many of the nation's best throwers sought out Gorski and his club for his coaching ability and support. In February 1999, Gorski was selected as chairman of men's javelin development for USATF.
The University of Georgia's throwers have flourished under Don Babbitt's tutelage. While at UGA, he has coached several Southeastern Conference champions and All-Americans and one national champion. Before coaching at Georgia, Don was an assistant at California State University at Los Angeles from 1988 to 1996. He built Cal State's throwing program into the strongest at the Division II level—producing 39 All-Americans and 15 NCAA Champions. An avid writer and clinician, Don has written several articles and chapters for various publications. He was also a speaker at the 14th International Track & Field Coaches Association Congress in Atlanta during the 1996 Olympics and at the 1998 U.S. Elite Throws Camp at the Olympic Training Center in San Diego. As a member of UCLA's track and field team, Don placed seventh at the 1988 PAC-10 Outdoor Championships.
Kent Pagel is currently an assistant coach at Louisiana State University and is the throwers' coach. Before joining the Tigers' staff, Pagel was the throwers' coach and associate program director at Radford University. He has extensive coaching experience working with throwers at Kent State University, California State University at Long Beach, San Diego State, and San Diego Mesa College. Well respected on the international level, Pagel has served on coaching staffs at major international competitions in Japan, Switzerland, Sweden, and England.
Ramona Pagel was ranked one of the top two Americans (including a number one ranking)in the shot put for 11 straight years, and she was a four-time Olympian. She holds the American women's indoor and outdoor shot put records. Ramona also threw the discus and was ranked as high as number two in the United States in 1986 and 1988.

Praise For…
---
"Jay Silvester couldn't have picked better event specialists: The Pagels, Jeff Gorsky, Don Babbitt (my coach), and Jay himself all offer years of practical knowledge--combined with solid mechanics--that will be an invaluable tool for any coach/athlete to use."
Adam Nelson
2000 Olympic Silver Medalist
Shot Put - 22.51m