Coaching Youth Cricket (Coaching Youth Sports) (Paperback)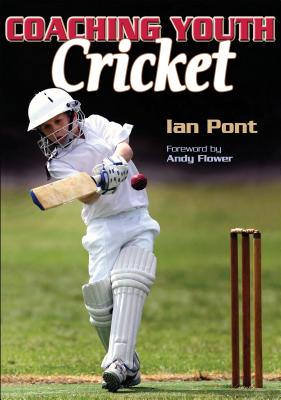 Description
---
Coaching Youth Cricket features explanations, photos, and illustrations depicting the various drills and skills of cricket, including fielding, bowling, and batting. Also included are chapters devoted to helping coaches communicate with players, understanding rules and equipment, keeping practices fun and motivating, ensuring safety, and teaching cricket skills. Written by renowned cricket expert Ian Pont, Coaching Youth Cricket will enable coaches at all levels to fulfill their responsibility to nurture and develop young cricketers and help them foster a lifelong passion for the game.   
About the Author
---
Ian Pont has been appointed Bowling Coach to the Bangladesh National Team. He played first-class cricket for Nottinghamshire and Essex from 1981 to 1988. Pont has been the specialist bowling coach for many professional cricket teams, including Kent, Northamptonshire, Essex, Worcestershire and Warwickshire. He has also been a coach involved at the international level with England (2003) and Netherlands (2005-2007). He holds a level 3 UKCC head coach qualification and is currently an ECB national skills set coach and Northamptonshire bowling coach. Ian is also head coach of the International Cricket Camp in Potchefstroom, South Africa, which takes place each December and features world-class coaches such as Gary Kirsten, Graeme Pollock and Jimmy Cook. This camp is now regarded as the very best of its kind for developing technical and mental skills for fast bowling and batting.
Praise For…
---
"Ian Pont fizzes with enthusiasm and missionary zeal when he talks about coaching. He is a perpetual stream of ideas; he wants to impart what he knows. Pont's first book on fast bowling was riveting because it put into plain English what can be a complicated subject. This book might have even wider appeal because he advises the coaches how to coach. Technically sound, it goes much further into the realms of what young people need in order to learn the game and Pont never forgets that, above all, cricket should be fun."
Stephen Brenkley, The Independent
"There are plenty of books for coaches at the elite level, coaches of adults and coaches of juniors. This book helps all coaches, and it is hard to imagine any who will not benefit from consulting it. It also deals with that often-overlooked element in young players' development: parents. They are more than just unpaid taxi drivers, and it is refreshing to see their vital role acknowledged."
Ralph Dellor,former Chairman of England and Wales Cricket Board Coaches Association,Broadcaster and Author of Cricket: Steps to Success
"A coach has to perform the role of motivator, counsellor and communicator. This book helps all coaches at all levels to do this effectively so players have the best possible chance to realise their potential."
Roger Newman, Director of Cricket, Devon CCC
"Ian Pont's infectious enthusiasm for his subject comes bursting through the pages."
"Here's a book that actually covers the subject of coaching in language we can understand: a breath of fresh air for anyone keen to start coaching at any level."
Dick Davies, BBC Essex
"The lessons of a life in cricket from a man who's worked with the very best—and made them even better."
Duncan Steer, Editor, SPIN Monthly Cricket magazine