A Look at Life from a Deer Stand (Hardcover)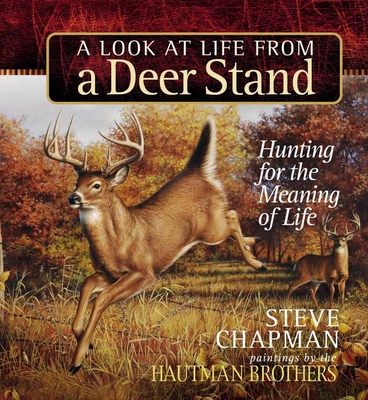 Description
---
From the incredible rush of bagging the big one to standing in awe of God's magnificent creation, author and outdoor enthusiast Steve Chapman perfectly captures the spirit of the hunt in this gift edition of the bestselling A Look at Life from a Deer Stand (more than 146,000 copies sold). Heartwarming tales of life lessons gleaned from the art of hunting are woven together with the inspiring wildlife art of the award-winning Hautman brothers.
New to the Harvest House group of artists, the Hautman brothers are America's foremost family of wildlife painters. Their artistic animal renderings are intricately detailed and capture the very essence of the great outdoors--a perfect match for the eloquent writings and poetry of Steve Chapman.
A perfect gift for dad on his birthday, Father's Day, or any holiday occasion.
About the Author
---
Steve Chapman and his wife, Annie, are award-winning musicians who take their message of Christ-centered family to fans all over North America. Steve's enthusiasm for Jesus, family, hunting, and humor shine in his books, including A Look at Life from a Deer Stand (nearly 300,000 copies sold), The Hunter's Cookbook (with Annie Chapman), and Great Hunting Stories.The Hautman Brothers--Joe, Bob, and Jim-- have established themselves as America's foremost family of wildlife artists. All three brothers have received numerous honors and awards, and have been a strong presence in many state and national duck stamp competitions. At last count, the three brothers have seen their art featured on more than 40 state and federal stamps.