Putting Out of Your Mind (Hardcover)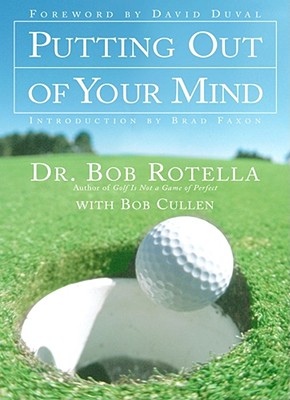 Description
---
This old adage is familiar to all golfers but is especially resonant with Dr. Bob Rotella, the bestselling author of Golf Is Not a Game of Perfect and one of the foremost golf authorities today. In Putting Out of Your Mind, Rotella offers entertaining and instructive insight into the key element of a winning game—great putting. He here reveals the unique mental approach that great putting requires and helps golfers of all levels master this essential skill.

Much like Golf Is Not a Game of Perfect and Golf Is a Game of Confidence, Putting Out of Your Mind is an informative and valuable guide to achieving a better golf game. While most golfers spend their time trying to perfect their swing so they can drive the ball farther, Rotella encourages them to concentrate on their putting—the most crucial yet often overlooked aspect of the game. Great players are not only aware of the importance of putting, they go out of their way to master it, and mastery can only begin with the understanding of the attitude needed to be a better putter. Rotella's mental rules have helped some of the greatest golfers in the world become champion putters and, for the first time, are now available to golfers everywhere.

With everything from true-to-life stories of such greats as Davis Love III, David Duval, and Brad Faxon to dozens of game-changing practice drills, Putting Out of Your Mind is the new bible of putting for amateurs and pros alike.
About the Author
---
Dr. Bob Rotella was the director of sports psychology for twenty years at the University of Virginia, where his reputation grew as the person champions talked to about the mental aspects of their game. His client list includes Hall of Fame golfers like Pat Bradley, Tom Kite, and Nick Price as well as stars of the present, such as Darren Clarke, Keegan Bradley, Padraig Harrington, Graeme McDowell, Mark Wilson, and Rory Mcllroy. A writer for and consultant to Golf Digest, he lives in Virginia with his wife, Darlene.
Praise For…
---
Brad Faxon During my last thirteen years with Dr. Rotella's instruction, I have consistently improved my game, my scoring average, and my place on the money list of the PGA tour. If you follow his direction you will greatly enhance the chances of improving your own golf game.

Tom Kite Bob Rotella understands the importance of discipline and dedication to a well-thought-out plan for improvement. Patience, persistence, and trust are required, but progress will follow if you honor your commitment to the plan he outlines. Doing so will bring tremendous feelings of satisfaction and pride.

Davis Love III My father spent many years teaching me to play golf, but when I reached the PGA Tour we realized that a poor short game was holding me back. My father suggested that Dr. Bob Rotella could help me reach my potential as a tournament golfer. Bob taught me a steady routine and has given me the confidence in my game to play at the highest level of competition.