Crazy Good: The True Story of Dan Patch, the Most Famous Horse in America (Paperback)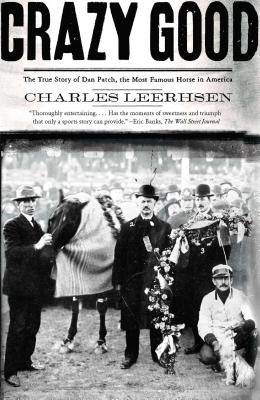 Description
---
Now in paperback, the book that Newsweek calls "wonderful, witty, and wise," vividly recounts a time 100 years ago when a racehorse thrilled America and became a legend.

• A great underdog story: Born with a bad leg and nearly destroyed at birth in 1896, Dan Patch became the greatest champion racehorse of his day, lowering the record for the mile by four seconds, an astounding achievement that stood for decades. Put to work pulling a wagon, he was entered in a race as a lark, but won it—and never lost throughout his long career.

• A bygone American era: Crazy Good is the story of America in simpler times, when the automobile was a novelty and most people preferred horses; an era when horse racing— pacers and trotters—was a dominant sport of the day.

• Colorful writing, colorful characters: Leerhsen populates his story with great characters, from the entrepreneur owner who made Dan Patch into a household name, to the alcoholic gambler who drove the horse to his greatest victories.
About the Author
---
Charles Leerhsen is a former executive editor at Sports Illustrated. He has written for Rolling Stone, Esquire, and The New York Times. His books include Ty Cobb: A Terrible Beauty; Crazy Good: The True Story of Dan Patch, the Most Famous Horse in America; and Blood and Smoke: A True Tale of Mystery, Mayhem, and the Birth of the Indy 500. He is a winner of the SABR Baseball Research Award. He lives in Brooklyn with his wife, the writer Sarah Saffian. Visit him at Leerhsen.com.
Praise For…
---
"It's a terrific look at a legendary if now forgotten equine superstar named Dan Patch. Leerhsen does for early 20th-century American harness racing what Laura Hillenbrand's Seabiscuit did for Depression-era Thoroughbred racing." -- USA Today

"One of the many satisfactions of Crazy Good is that it goes farther than Seabiscuit -- Laura Hillenbrand's popular resurrection of another unlikely superstar -- in explaining how a horse could be so feted, then forgotten...With wit and a winking charm, Leerhsen, an executive editor at Sports Illustrated, makes sure this handsome brown stallion resonates...From start to finish, this book has legs." -- Newsweek

"Mr. Leerhsen's thoroughly entertaining history betrays no trace of the sentimentality that so often adheres to tales of bygone sports heroes...[Crazy Good] has the moments of sweetness and triumph that only a sports story can provide. Not least among the triumphs is the fact that, with Mr. Leerhsen's help, Dan Patch at long last has been given his due." -- Wall Street Journal

"Leerhsen vividly recounts Dan-mania and digs up dirt on the colorful gamblers and shady horse handlers of the 1900s. In rescuing Dan from the mists of history, he also draws a wry, moving account of America's first epidemic of sports fever." -- Entertainment Weekly