Speed Read F1: The Technology, Rules, History and Concepts Key to the Sport (Paperback)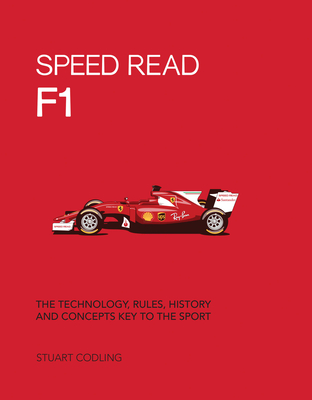 Description
---
Get instant access to the history, technology, drivers, rivalries, racing circuits, and business of Formula 1 in this beautifully designed and illustrated essential guide from Motorbooks' Speed Read series.
 
The world racing championship that now encompasses 20 (and counting) annual races across five continents started in the European racing scene between the first and second world wars. It's been a long road from the early races held in redundant airfields bounded by old oil drums to today's extravagant spectacles—a road marked by glory, championships, iteration, technology, and speed.  
 
In sections divided by topic, you'll find the history of the sport, biographies of major drivers and figures who have dominated the sport's long and storied history, a rundown of the incredible technology that makes its cars so fast, an account of racing accidents and the safety measures they inspired, and more.

Each section ends with a glossary of related terms, and informational sidebars provide fun facts, historical tidbits, and mini-bios of key people in Formula 1. Sleek illustrations of the cars, technology, and drivers impart the visual feel of F1 throughout.
 
With Motorbooks' Speed Read series, become an instant expert in a range of fast-moving subjects, from Formula 1 racing to the Tour de France. Accessible language, compartmentalized sections, fact-filled sidebars, glossaries of key terms, and event timelines deliver quick access to insider knowledge. Their brightly colored covers, modern design, pop art–inspired illustrations, and handy size make them perfect on-the-go reads.
About the Author
---
Stuart Codling is a respected motorsport journalist and broadcaster who covered sports car racing in the United States before joining F1 Racing, the world's biggest-selling Formula 1 magazine, in 2001. He has appeared as an F1 expert on TV and radio, hosted for Renault F1, and contributes to F1 Racing, Autosport, Autocar, and the Red Bulletin. Codling is the author of several Motorbooks titles, including Real Racers: Formula 1 Racing in the 1950s and 1960s, Art of the Formula 1 Race Car, Art of the Classic Sports Car, and The Life Monaco. Stuart lives in Farnham, Surrey, England.
Praise For…
---
"While someone who doesn't know the first thing about Formula 1 racing will most definitely get a great introduction to every aspect of the sport, a long-time Formula 1 fan will still enjoy the concise history and overview of the sport they love. What Codling has done here is create a book that can be given to anyone, including those who don't know the first thing about cars, and enjoyed thoroughly."
 —6SpeedOnline.com

"Thanks to its interesting and original content, beautiful art, clean layout and presentation, and numerous tidbits both important and trivial, the book offers not a cold look at one of the world's most expensive sports but rather a warm invitation to explore Formula One's curious universe of strange yet magnetic personalities, high strakes drama, and mind-bogglingly fast cars."
 —TheNewswheel.com

"All-in-all, it's a fascinating read ripe with informative factoids and fascinating stories."—Rennlist.com