Game Change: The Life and Death of Steve Montador, and the Future of Hockey (Paperback)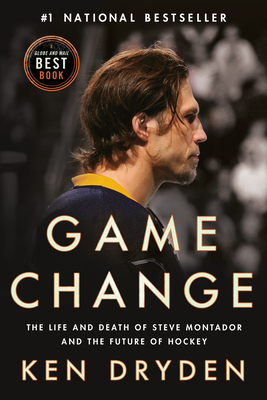 Description
---
Shortlisted for the BC National Award for Canadian Non-Fiction

A Globe and Mail Best Book

From the bestselling author and Hall of Famer Ken Dryden, this is the story of NHLer Steve Montador—who was diagnosed with CTE after his death in 2015—the remarkable evolution of hockey itself, and a passionate prescriptive to counter its greatest risk in the future: head injuries.
 
Ken Dryden's The Game is acknowledged as the best book about hockey, and one of the best books about sports ever written.  Then came Home Game (with Roy MacGregor), also a major TV-series, in which he explored hockey's significance and what it means to Canada and Canadians. Now, in his most powerful and important book yet, Game Change, Ken Dryden tells the riveting story of one player's life, examines the intersection between science and sport, and expertly documents the progression of the game of hockey—where it began, how it got to where it is, where it can go from here and, just as exciting to play and watch, how it can get there.
About the Author
---
KEN DRYDEN was a goalie for the Montreal Canadiens in the 1970s, during which time the team won six Stanley Cups. He also played for Team Canada in the 1972 Summit Series. He has been inducted into the Hockey Hall of Fame and the Canadian Sports Hall of Fame. He is a former federal member of Parliament and cabinet minister, and is the author of five books, including The Game and Home Game (with Roy MacGregor). He and his wife, Lynda, live in Toronto and have two children and four grandchildren.
Praise For…
---
"Game Change is excellent. Well written. Well researched. Well reasoned. Informative. Intriguing. Thought provoking."—Bob McKenzie, TSN

"Game Change is arguably Dryden's most significant book since The Game, which is still widely regarded as the greatest hockey book ever written and as one of the best sports books of all time. As good as The Game was, this latest work is the more important to read right now." —Brett Popplewell¸ Globe and Mail

"Ken Dryden's new book, Game Change [is] a powerful and convincing examination of hockey's failure to address the growing issue of concussions." —Roy Macgregor, Globe and Mail

"Ken Dryden's superb new book, Game Change, is about the brain and head shots and concussions. But more than that, the thread that carries you through this well-crafted story is the life of Steve Montador . . . who was destroyed too young by injury and circumstance." —Steve Simmons, Ottawa Citizen