The Complete Illustrated Manual of Handgun Skills (Hardcover)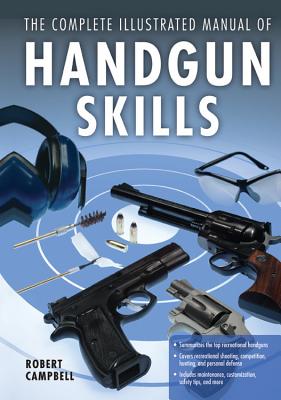 Description
---
With pistol in hand, author Robert Campbell introduces you to the world of handguns, from choosing your first handgun to understanding the basics of firearms safety, marksmanship, competitive shooting, hunting, and personal protection. Learn how to hold, fire, clean and care for your gun while on the gun range and off the gun range. Before you know it, you'll be "making brass" on the target range.
Though it is very important to attend a handgun class near you before hitting the gun range, this guide to handguns is a great compliment to the teachings of trained professionals. The manual provides clear instructions for taking care of your firearms, from cleaning and general maintenance to minor repairs. Campbell covers accessories such as holsters and magazines and demystifies the sometimes confusing array of ammunition available in every caliber, including an introduction to hand-loading.
Create your own bullets with this handy guide to handguns, and learn about ammunition, not only caliber and weight but the distance range for each type of bullet. There's no confusing jargon here, The Complete Illustrated Manual of Handgun Skills will take your handgun knowledge to the next level. Informal and fun to read, but full of information from decades of handgun experience, The Complete Illustrated Manual of Handgun Skills is required reading for any handgun owner.
About the Author
---
Robert Campbell has published more than six hundred articles, columns, and reviews in the firearms, personal defense, and outdoors field. His work appears in Gun Week, Women and Guns, Gun List, Gun Digest, Handguns, Shotgun News, SWAT, Police, Tactical Gear, Concealed Carry Magazine, Handloader, and other publications.