Complete Outdoors Encyclopedia: Camping, Fishing, Hunting, Boating, Wilderness Survival, First Aid (Paperback)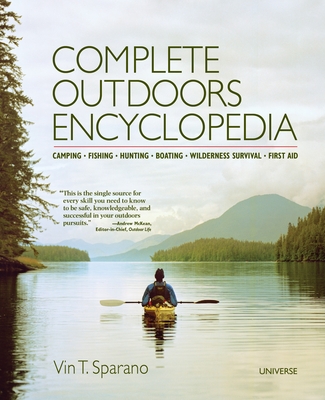 $35.00
Usually Ships in 2-3 Days
Description
---
INDIEFAB Book of the Year Awards -- 2014 GOLD Winner for Best Sports Book

The ultimate do-it-yourself guide for the outdoors enthusiast, completely updated for today's outdoorsman and now in full color. This latest (fifth) edition of the award-winning Complete Outdoors Encyclopedia will again prove to be the most effective outdoor skills instruction book ever published. This monumental guide to the outdoors is produced for the first time in full color, featuring more than 1,300 photographs and 1,000 diagrams and illustrations. Totally revised and updated, this indispensable resource offers in-depth coverage of hunting, shooting, fishing, camping, boating, survival, first aid, bowhunting, and species profiles of game animals, birds, fish, and sporting dogs. This book is a must-have reference guide for both novice and experienced sportsmen as well as any person planning to learn outdoor skills.

To broaden the scope of this established reference work, author Vin T. Sparano has compiled brand-new sections on wilderness survival, all-terrain vehicles, and boating. He has included new information on GPS and increased focus on specialty sections such as flyfishing, sporting clays, backpacking, nutrition, and first-aid breakthroughs for outdoors emergencies. Complete Outdoors Encyclopedia clearly explains and illustrates the latest technologies and trends in the outdoors.
About the Author
---
Vin T. Sparano has been an outdoors editor and writer for more than fifty years. He is editor emeritus of Outdoor Life and has written and edited more than fifteen books about the outdoors, including the four previous editions of Complete Outdoors Encyclopedia. In 2009, he was awarded a Lifetime Achievement Award from the Fisherman's Conservation Association.
Praise For…
---
"This is the ultimate reference guide for anyone, of any age or gender, who wants to spend time in the great outdoors. The Complete Outdoors Encyclopedia is just that—complete! I am hard pressed to think of a subject it doesn't cover. If you spend any time in the outdoors or know someone who does, this book will be hugely beneficial on many levels. Direct and to the point, easy to read and understand, sprinkled with colorful photographs and clear illustrations, this manual covers it all." -The Outdoor Blogger Network

"This recently updated book has been my longtime favorite outdoor go-to book for the past 40 years for information about all things outdoors, including camping, fishing, hunting, guns, boating, wilderness survival, first aid and fish identification. My good friend and former editor, Vin Sparano of Outdoor Life magazine, has carefully researched this 600-plus-page book that has most everything you need to know or ever have wondered about to help you become a premier outdoorsman." -Great Days Outdoors

"Vin Sparano has done a terrific and thorough job of updating the venerable Complete Outdoors Encyclopedia, an award-winning reference first published in 1972. This old-school, large-format doorstop (640 pages) will light up your day, reminding you (if you're old enough) of a time when fishing, hunting, dog-training, target-shooting, camping, and canoeing were things we all did; when knowing knots, tracks, worm rigs, and shot patterns was a common interest. This new edition of the Complete Outdoors Encyclopedia is warm with tribal knowledge of venerable outdoors skills and horse sense that will pique your interest in getting outdoors for any season. With the authority of a lifetime spent outdoors, Sparano's engaging text and excellent illustrations pull these subjects together in perfect balance between the important task of keeping traditional knowledge alive and our need to absorb worthwhile new changes in tackle, firearms, optics, camping gear, and high-tech tools. And Rizzoli has outdone itself with the range and quality of illustration. The knowledge in these pages begs to be used, and speaks without fanfare to a once common love of traditional outdoor pursuits." -Gray's Sporting Journal

"The Complete Outdoors Encyclopedia is no ordinary book. It's more of a full color how-to outdoor guide covering every aspect of the outdoors, including hunting and shooting, sweet and saltwater fishing and boating and camping. Other sections include game animals and birds, gamefish and how to catch and cook them. Archery and bowhunting, wilderness survival, all terrain vehicles, GPS and sporting dogs are also covered. I know, who needs books when you can download all the information you want from the Internet, and in some regards I have to agree. But what you won't get off the Internet is the more than 60 years of experience the author brings to the books...written by Outdoor Life editor emeritus Vin T. Sparano, the book is a revision of the authors mid-1970s version and in my humble opinion, a much better publication." -The Recorder, Amsterdam, N.Y.

"Vin's encyclopedia is a must-have for all outdoor-oriented families. It has been invaluable in my own family—for my sons and my grandsons." -Joan Wulff, First Lady of Fly Fishing, National Casting Champion, IGFA Hall of Fame member, and founder of Wulff School of Fly Fishing

"Back and better than ever, Vin's wonderfully detailed encyclopedia remains a superb reference for anyone—novice or expert—who loves fishing, hunting, and other outdoor activities. And it makes a great gift!" -Nick Lyons

"To gather a lifetime of outdoor knowledge, you can either spend your life outside, or simply soak in the knowledge offered up by the Complete Outdoors Encyclopedia. First published in 1972 by longtime outdoors writer Vin T. Sparano, this exhaustive tome is now in its fifth edition—recently updated with new sections on wilderness survival, ATVs, and boating—and offers over 600 pages of know-how, including over 1,300 photos and 1,000 illustrations. Just don't expect to actually take it into the woods with you—at nearly four pounds, you're going to want to leave this one at home." -Uncrate.com

"...the Complete Outdoors Encyclopedia is no ordinary book. It's more of a full-color how-to outdoor guide covering every aspect of the outdoors, including hunting and shooting, sweet and saltwater fishing and boating and camping." -Hudson Valley News

"From a standpoint of long-term survival, you need to know everything you can about the great outdoors. And as someone 'living off the land,' you'd need to know how to effectively catch every critter under the sun, as well as camping, survival, and first aid skills. Even if you just want to know the outdoors better, there is much to learn. Thankfully, almost everything you'd want to know has been covered in one big brick of a book, the Complete Outdoors Encyclopedia. Vin Sparano, a former Outdoor Life Editor-in-Chief, has put together an updated fifth edition of his unparalleled compendium of the outdoors. This latest version still has all of the classic outdoor information of previous versions (because solid information never goes bad), but it also directs us in the use of fully modern tackle and techniques for camping, fishing, hunting, wilderness survival, first aid, reloading, and a mindboggling array of other outdoor skills. At 640 pages this is no pocket guide, but the lifelong work and wisdom of an outdoor master. The book is very well written, easy to read, and loaded with interesting nuggets of knowledge." -Outdoor Life, The Survivalist

"There is no shortage of come-lately 'experts' who would tutor you in essential paddling strokes or survival knots. But would you trust them to help you select a lightweight upland shotgun or show you how to field dress a deer? There's only one author who has the depth and breadth of experience to cover the galaxy of outdoor skills. He's Vin Sparano, Editor Emeritus of Outdoor Life, a man who has employed the very skills he describes in a lifetime of hunting, fishing, and outdoors recreation. This is the single source for every skill you need to know to be safe, knowledgeable, and successful in your outdoors pursuits." -Andrew McKean, Editor-in-Chief, Outdoor Life

"I have known Vin Sparano—and respected his knowledge of the outdoors—for more than 30 years. He is still a master teacher. His extensive knowledge and manner of putting the essential information into an understandable form allows readers of any skill set to learn and more fully enjoy the outdoors." -Stu Apte

"In this world of tunnel-vision specialists, Vin Sparano pursued a refreshingly different mission with his Complete Outdoors Encyclopedia...the essential core of every inquisitive sportsman's library, one we will reach for time and again, whether we've been at this for years or just started yesterday." -James R. Babb, Editor, Gray's Sporting Journal

"Vin T. Sparano's Complete Outdoors Encyclopedia has been a reliable reference for me in my writing, editing and outdoor enjoyment since the first day it came out many years ago. This brand-new 5th Edition, totally updated with additional material and full color, makes it a great resource for the outdoorsman even greater." -Glenn Sapir, Director, Editorial Services, National Shooting Sports Foundation; former Editor, Field & Stream, Outdoor Life and Sports Afield magazines

"The latest edition (5th) of the popular and award-winning Complete Outdoors Encyclopedia is now available. It is considered by many as the most effective outdoor skills instruction book ever published, and the ultimate do-it-yourself guide for the outdoors enthusiast. It is beautifully illustrated with more than 1,300 photographs and 1,000 diagrams and illustrations, offering in-depth coverage of hunting, shooting, fishing, camping, boating, survival, first aid, bowhunting, and species profiles of game animals, birds, fish, and sporting dogs. A must-have reference guide for both novice and experienced outdoorsmen." -BlessThisStuff.com

"The Age of Wikipedia is essentially the age of misinformation. It's so easy to just look something up instead of actually doing the research—and more often than not come away with a half-truth or some faceless nerd's ersatz knowledge. Enter the Complete Outdoors Encyclopedia, new from Universe...Here is what it covers, comprehensively: camping, fishing, hunting, shooting, boating, wilderness survival and first aid. Here's what it doesn't cover: relationships, making dinner reservations, shopping for skinny jeans or posting funny little photos to Instagram. This is a book for men who want to get outside and do something. The Complete Outdoors Encyclopedia has all the answers. If you can't find it in there, you shouldn't be doing it. No less a personage than the Editor-in-Chief of Outdoor Life calls it 'essential reading.' And so do we." -Askmen.com

"This venerable tome, appearing in its first edition in 1972, represents what may be the best single-volume source for outdoors sports data and information. Perhaps the most notable change from the previous edition is the new use of eye-catching, clear, and attractive images in photographs and drawings. The use of color accomplishes a lot more than just looking pretty; much of that resultant detail is much clearer than it can be in black-and white (the new spread on "how to fillet a fish" is a prime example of this). And of course there are lots of new topics that few of us could have imagined even as recently as 1998 (4th edition), much less in 1972. Sparano has updated this edition to include important new topics like GPS usage, the new crop of non-toxic alternatives to lead shot, and lots more. And there's an entirely new section on wilderness survival, with discussions on planning ahead, compiling a survival kit, medical care, making fire, and lots more. This book belongs on a prominent shelf in any sportsman's library, whether a previous edition is already there or not." -NJ Federated Sportsmen News

"This classic, in a new edition, is the be-all, end-all of how-to guides. If you're a relative newcomer to the outdoors and want to learn how best to hold a bass compared to a trout, catfish or barracuda, that's in here. And if you're a veteran who wants to size the stock of your next custom rifle, that's here as well. It's informative but also fun to read, with plenty of photos and graphics to keep things interesting." -Pittsburgh Tribune-Review