The Committed (Hardcover)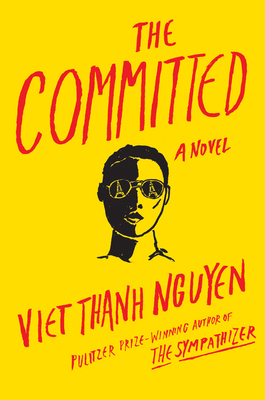 Staff Reviews
---
Now "reeducated" by his best friend and blood brother Man, our nameless ex-triple agent (see The Sympathizer, the first volume of his "confessions,"), has made his weary, sorrowful way to Paris in the company of his also blood brother and longtime friend Bon. Was the revolution right or wrong? What of those who participated in it? Wrote of it? Fought it? Fought for it underground? Bon knows what he thinks: he has spent his lifetime killing communists. But having spent his adult lifetime as a spook, sleeper, spy, the middle "blood brother," now haunted by ghosts, crippled by remorse, wracked with doubt, fearful that Bon will find out what he's done, who he is, knows not what to think. Except that his brain has separated into two parts, his self into two pieces. And that despite disenchantment with the ways the revolution has played out, he still feels in sympathy with parts of it. With parts, it still seems, of many things. He stays with his "aunt" (his handler in former days, actually Man's aunt) and recognizes in her friends and colleagues a ripe source for doing harm to those with whom he does not sympathize. And because he and Bon have also been told to contact "The Boss," he has the means: drugs. So the plot thickens into a roux of violence, philosophy, hypocrisy, desperation and treachery as he acts his way into and out of nearly constant chaos and danger, writes his way into and out of wavering sanity, able to sympathize with so many, to understand so little. What is he committed to? Committed for? BOOM! He says, in describing his birth, product of a Vietnamese mother (whom he loved) and a French father (whom he loathes). And BOOM is an apt description for this detonation of words that sob and scream, weep for, tear at the fabric of politics and philosophy, of belief and its opposite.
— From
Betsy Burton
March 2021 Indie Next List
---
"In this sequel to The Sympathizer, Viet Thanh Nguyen (and his semi-nameless narrator) once again skewer multiple ideologies with caustic wit, philosophical gravitas, and broad historical understanding. A mix of organized crime and psychological and political thriller, this book offers action (and there is lots of action!) unfolding amidst piercing meditations on colonialism, national identity, and ethics. In other words, The Committed uses much the same recipe as its Pulitzer-winning predecessor and delivers a similarly gripping, enraging, smart, and bleakly funny tale."
— Annie Metcalf, Magers & Quinn Booksellers, Minneapolis, MN
Description
---
The sequel to The Sympathizer, which won the 2016 Pulitzer Prize in Fiction and went on to sell over a million copies worldwide, The Committed tells the story of "the man of two minds" as he comes as a refugee to France and turns his hand to capitalism.
The long-awaited new novel from one of America's most highly regarded contemporary writers, The Committed follows the unnamed Sympathizer as he arrives in Paris in the early 1980s with his blood brother Bon. The pair try to overcome their pasts and ensure their futures by engaging in capitalism in one of its purest forms: drug dealing.
Traumatized by his reeducation at the hands of his former best friend, Man, and struggling to assimilate into French culture, the Sympathizer finds Paris both seductive and disturbing. As he falls in with a group of left-wing intellectuals whom he meets at dinner parties given by his French Vietnamese "aunt," he finds stimulation for his mind but also customers for his narcotic merchandise. But the new life he is making has perils he has not foreseen, whether the self-torture of addiction, the authoritarianism of a state locked in a colonial mindset, or the seeming paradox of how to reunite his two closest friends whose worldviews put them in absolute opposition. The Sympathizer will need all his wits, resourcefulness, and moral flexibility if he is to prevail.
Both literary thriller and novel of ideas, The Committed is a blistering portrayal of commitment and betrayal that will cement Viet Thanh Nguyen's position in the firmament of American letters.
About the Author
---
Viet Thanh Nguyen was born in Vietnam and raised in America. He is the author of The Sympathizer, which was awarded the 2016 Pulitzer Prize for Fiction alongside seven other prizes. He is also the author of the short story collection The Refugees, the nonfiction book Nothing Ever Dies, a finalist for the National Book Award, and is the editor of an anthology of refugee writing, The Displaced. He is the Aerol Arnold Professor of English and American Studies and Ethnicity at the University of Southern California and a recipient of fellowships from the Guggenheim and MacArthur foundations. He lives in Los Angeles.