Family of Origin, Family of Choice: Stories of Queer Christians (Paperback)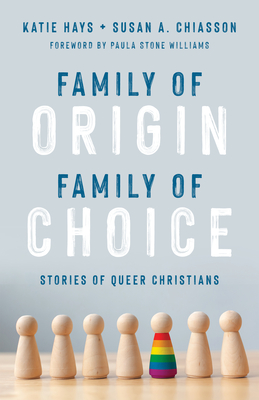 $19.99
Usually Ships in 2-3 Days
Description
---
First-person testimonies from LGBTQ+ Christians about coming out and navigating their family dynamics
What happens in a family when one member comes out? How does LGBTQ+ identity affect relationships with parents and grandparents, siblings and cousins? What does Christian love require and make possible for families moving forward together?
A social scientist and a pastor, both from Galileo Church on the outskirts of Fort Worth, Texas, asked their LGBTQ+ friends from church to help them understand how they navigate relationships with their affirming, non-affirming, and affirming-
ish
families of origin, even as they also find belonging in other families of choice. The resulting stories, crafted from interviews with fifteen queer Christians and family members, kept anonymous at their request, are as varied as the colors of the rainbow. Over the years, some grew closer to their families of origin; others grew more distant. Some were surprised by the hardness of heart they encountered; others were amazed by the breadth of their family's love. Most all describe a trajectory, a journey, from the coming-out moment till now and beyond, as their families of origin, like all families, remain a work in progress.
About the Author
---
Katie Hays is the founder and lead evangelist of Galileo Church, a church that "seeks and shelters spiritual refugees," especially young adults and LGBTQ+ people, on the outskirts of Fort Worth, Texas. She is also the author of We Were Spiritual Refugees: A Story to Help You Believe in Church. Susan A. Chiasson is a qualitative researcher who tries to understand, rather than predict, people's beliefs and attitudes. Her work involves a lot of talking to people as she observes them at work or play, in interviews, and in focus groups.