Memories of Summer: When Baseball Was an Art, and Writing about It a Game (Paperback)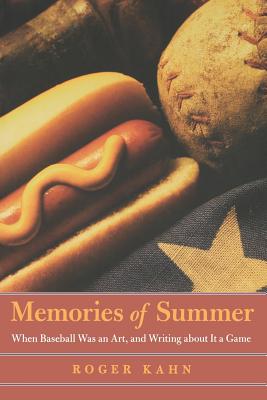 $19.95
Usually Ships in 2-3 Days
Description
---
Acclaimed baseball writer Roger Kahn gives us a memoir of his Brooklyn childhood, a recollection of a life in journalism, and a record of personal acquaintance with the greatest ballplayers of several eras.
His father had a passion for the Dodgers; his mother's passion was for poetry. Somehow, young Roger managed to blend both loves in a career that encompassed writing about sports for the New York Herald Tribune, Sports Illustrated, the Saturday Evening Post, Esquire, and Time.
Kahn recalls the great personalities of a golden era—Leo Durocher, Mickey Mantle, Willie Mays, Jackie Robinson, Red Smith, Dick Young, and many more—and recollects the wittiest lines from forty years in dugouts, press boxes, and newsrooms. Often hilarious, always precise about action on the field and off, Memories of Summer is an enduring classic about how baseball met literature to the benefit of both.
About the Author
---
Roger Kahn (1927–2020) is the author of the classic The Boys of Summer and is a visiting lecturer on creative writing at the State University of New York at New Paltz. His books Good Enough to Dream, A Season in the Sun, and The Era, 1947–1957: When the Yankees, the Giants, and the Dodgers Ruled the World are available in Bison Books editions.
Praise For…
---
"Simply put, this is a marvelous book."—Kirkus Reviews (starred)
— Kirkus Reviews

"Kahn is a master at evoking a sense of the past. Here he offers a pleasing potpourri of autobiography, professional memoir, and anecdotal baseball history."—Booklist
— Booklist

"This is powerful stuff. . . . Primal and difficult to articulate, but Kahn does, in a spare and admirably understated way."—Philadelphia Inquirer
— Philadelphia Inquirer

"A grand slam."—Business Week
— Business Week