Mini Thai Dictionary: Thai-English English-Thai, Fully Romanized with Thai Script for All Thai Words (Tuttle Mini Dictionary) (Paperback)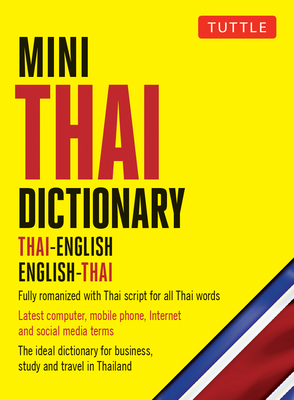 Description
---
It's never a good idea to be overly-reliant on technology while traveling Look up words quickly and easily with this excellent Thai dictionary.
Tuttle's
Mini Thai Dictionary
is ideal for any application where a handy and portable dictionary is required. This pocket-sized dictionary is intended for use by tourists, students, and business people traveling to Thailand, or as a Thai language study reference.
Mini Thai Dictionary
is an essential tool for communicating, and a great way to learn Thai. In addition to being an excellent English to Thai dictionary and Thai to English dictionary, this mini dictionary contains essential notes on the Thai language, Thai grammar, and Thai pronunciation. All words are written in English as well as Thai script so that, in case of difficulties, the book can be shown directly to a native speaker.
This mini dictionary contains the following essential features:
Bidirectional Thai to English and English to Thai.
Over 12,000 essential words, idioms, and expressions.
A basic overview of Thai grammar and pronunciation.
All the latest Thai social media and computer terms.
Compatible with all U.S. ESL standardized testing.
About the Author
---
Born in Sydney Australia, Scot Barme PhD (Thai history), M.A. (Thai history) and B.A. (Asian Studies, Honours) all undertaken at the Australian National University (ANU) in Canberra, and a Diploma of Education from the University of Canberra, has a long standing interest in Thailand that goes back to the early 1970s. Over the years he has worked in a Thai university and, while in Australia, been involved in curriculum development together with producing language materials for the teaching of Thai. In addition he has done extensive work translating Thai into English and also worked as an interpreter. He has spent many years in Thailand where he presently lives. Revisions by: Jintana Rattanakhemakorn graduated from Chiang Mai University with a bachelor's degree in Thai, and completed her master's degree in English at Khon Kaen University. She also holds a certificate in Teaching English as a Second Language from Seattle University College of Education. She has been teaching Thai to U.S. college students at the study abroad program in Khon Kaen, Thailand, administered by the Council on International Educational Exchange (CIEE) since 2004. As the Language Director for the program, she has developed methods, materials and lesson plans used in Thai language courses to help students become better, more confident speakers of Thai. In addition, she is the author of Easy Thai: Learn to Speak Thai Quickly and Easily.