The Writer's Book of Hope: Getting from Frustration to Publication (Paperback)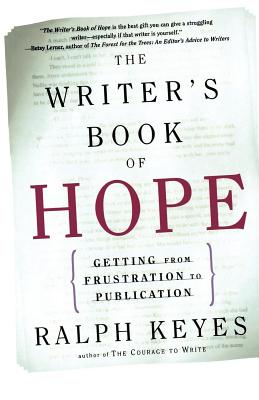 Description
---
In 1889, the editor of the San Francisco Examiner, having accepted an article from Rudyard Kipling, informed the author that he should not bother to submit any more. "This isn't a kindergarten for amateur writers," the editor wrote. "I'm sorry, Mr. Kipling, but you just don't know how to use the English language." A century later, John Grisham was turned down by sixteen agents before he found representation-and it was only after Hollywood showed an interest in The Firm that publishers began to take him seriously.

The anxiety of rejection is an inevitable part of any writer's development. In this book, Ralph Keyes turns his attention from the difficulty of putting pen to paper-the subject of his acclaimed The Courage to Write -to the frustration of getting the product to the public. Inspiration isn't nearly as important to the successful writer, he argues, as tenacity, and he offers concrete ways to manage the struggle to publish. Drawing on his long experience as a writer and teacher of writing, Keyes provides new insight into the mind-set of publishers, the value of an agent, and the importance of encouragement and hope to the act of authorial creation.
About the Author
---
Ralph Keyes is the author of The Quote Verifier, The Writer's Book of Hope, and The Courage to Write. He lives in Yellow Springs, Ohio, where he lectures and is a Trustee of the Antioch Writers' Workshop.
Praise For…
---
"A perfect companion for every writer. Keyes gives you solid information you can put to use while he bolsters the faith you need to keep going." —Judith Appelbaum, author of How to Get Happily Published