Tonkawa Texts: A New Linguistic Edition (Hardcover)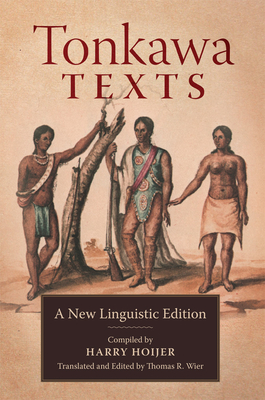 Email or call for price.
Usually Ships in 2-3 Days
Description
---
Although tribal traditions survive among the Tonkawa people, now located in northern Oklahoma, the Tonkawa language has been extinct for more than 75 years. Much of what is known about Tonkawa--an "isolate" language, related to no others--comes to us through the stories collected and translated by twentieth-century anthropologist Harry Hoijer. These texts, constituting the entire remaining oral literature of the Tonkawa people, are edited and presented here in the original Tonkawa and newly translated into English, along with a new and up-to-date grammatical description. Hoijer's original transcriptions were largely unannotated and unglossed and were translated word for word, with no free English translation of full clauses. In this volume, Thomas R. Wier provides translations for each line of text along with morphological analysis of each Tonkawa word. He breaks each line of the original Tonkawa text into its constituent parts, glosses each of these in turn, and translates the whole into English. For the first time in nearly a century, his work supplies an entirely new grammatical description--using the modern terms, conventions, and insights of modern linguistic theory--that will help linguists understand the structure of the Tonkawa language. The tales themselves--divided into "Night Stories" of a pre-human mythological past, and "Old Stories" of humans caught up in unexpected adventures--act as a crucial resource for scholars and any readers interested in the literature of this prominent Native American tribal group. For both the language it preserves and the stories it tells, Tonkawa Texts is an invaluable repository of Tonkawa culture.