Stalefish: Skateboard Culture from the Rejects Who Made It (Paperback)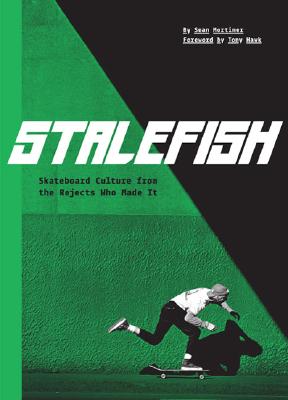 Description
---
How is professional skateboarding different from, say, professional golfing? More scabs, for one. And is skateboarding actually a sport? In Stalefish, veteran journalist and former pro skater Sean Mortimer interviews Rodney Mullen, Steve Olson, Tony Hawk, Stacy Peralta, Jamie Thomas, Lance Mountain, Tommy Guerrero, Russ Howell, Mike Vallely, Dave Hackett, Daewon Song, Jim Fitzpatrick, Steve Alba, Kevin Harris, Bob Burnquist and Chris Haslam in search of answers, and to discover what drove them and millions of other disenfranchised youth to obsession with empty pools, sewer ditches, and handrails. This book may not settle the sport versus subculture versus cult debate, but with stories of skate-induced ulcers, skatepark torture, ramp arson, trespassing, the birth of punk, and more, it captures like no other how skateboarding can derail your life in a beautiful way.
About the Author
---
Sean Mortimer was a sponsored skateboarder in the late '80s. He is the former editor of SkateBoarder Magazine and the author of HAWK Occupation: Skateboarding with Tony Hawk and The Mutt: How to Skateboard and Not Kill Yourself. He lives in Southern California.

Tony Hawk was ranked the best skateboarder in the world by age 16. He lives in Southern California.
Praise For…
---
"A classic collection of skateboarding lore and legend straight from the heart of the icons that created it." Juice Magazine

"Skateboarding's formative years and milestones eroded before they were documented. Stalefish captures those stories in a way skateboarders old and new can relate to. A necessary book." Transworld Skateboarding

"So, if you are a skater, or have ever been one, you need to read Stalefish. Honestly. Read it. Stalefish would also be a great read for anyone interested in the history of skateboarding, or skate culture. And really, I can't imagine a better way to represent skateboarding than with a book like this. Stalefish captures the personal and individual aspects of skateboarding perfectly. And that's really what skateboarding is. Read this book. You'll love it. Steve Cave, About.com Skateboarding Guide

"This ain't no run of the mill history lesson. It's more like sitting down at a bar to hear Mike Vallely tell his story about how he didn't want to be the face of change for skating or hear how Tony Hawk had his first kiss at Del Mar or how Daewon Song thought that he sucked at one point. No boring "Skateboarding adapted from surfing..." commentaries, only the juicy details from the pros that made the scene what it is today. Highly recommended." —Turntablelab.com

Sean Mortimer tackles the culture of skateboarding after taking us into the lives of Tony Hawk and Rodney Mullen. Stalefish covers skateboarding from the vantage point of those who were there making it a cultural phenomenon from the beginning until modern day. With historic heavyweights Stacy Peralta, Steve Alba and Lance Mountain to modern-day culture makers Daewon Song, Jamie Thomas and Chris Haslam, this isn't a book that will tell you what happened; it's a book about the people who made it happen telling you how it went down. SBC Magazine