Beyond Atlanta: The Struggle for Racial Equality in Georgia, 1940-1980 (Paperback)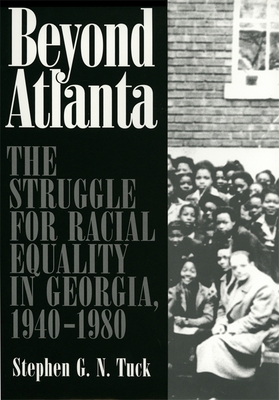 $29.95
Usually Ships in 2-3 Days
Description
---
This sweeping history of the civil rights movement in the South's largest state tells of many Georgias. On one extreme is Atlanta, a metropolitan center of relative black prosperity and training ground of many movement leaders. On another is Albany. A city deep in the "black belt" of the plantation South, it is the site of Martin Luther King Jr.'s greatest civil rights setback. Somewhere in between is yet another Georgia, a Georgia whose communities once constituted hundreds of Jim Crow fiefdoms. In places like "Bad" Baker County near the southern border, or in the relatively moderate town of Rome in the northern hills, black-white relations were as crude or as nuanced as the outlook of the local sheriff.
Beyond Atlanta
draws on interviews with almost two hundred people--black and white--who worked for, or actively resisted, the freedom movement. Among the topics Stephen Tuck covers are the absence of consistent support from the movement's national leadership and the frustration and innovation it alternately inspired at the local level. In addition, Tuck reveals friction, along urban-rural and poor-prosperous lines, about movement goals and tactics, and he highlights the often unheralded roles played by African American women, veterans, masons, unions, neighborhood clubs, and local NAACP branches. Tuck's narrative begins before, and continues after, the well-documented years of direct action protest in the 1960s. Though grounded in local and state matters, it is attuned to such national developments as World War II, the 1954 Brown decision, the Civil Rights Acts of 1964-65, and the growth of the Black Power movement. Perhaps most important,
Beyond Atlanta
makes clear the exorbitant cost of racial oppression, in terms of hampered economic and social progress, for all Georgians.
About the Author
---
Stephen G. N. Tuck is Director of Studies in History at Gonville and Caius College, Cambridge University.
Praise For…
---
"Tuck's fine work illuminates the 'uneasy tensions' between rural and urban areas and the uneven progress between communities, and it raises the bar against reductionist interpretations . . . . [I]t certainly deserves recognition."--American Historical Review

"Tuck's extraordinarily well researched and balanced book succeeds admirably in revealing the many and varied efforts for racial justice throughout Georgia between the 1940s and 1980s. Beyond Atlanta is thus a distinguished study of American race relations."--James T. Patterson

"Tuck covers a remarkable research track on his subject. He draws comfortably on an extraordinarily extensive and rich body of primary and secondary sources in the field."--Ralph E. Luker

"We are still some distance away from a convincing historical synthesis on a national scale of previous outstanding social, cultural, and political studies of American black-white relations during the period from the 1930s to the present. . . . Beyond Atlanta is a significant step toward that goal. . . . [It] succeeds in identifying both general patterns and exceptional factors that distinguished civil rights activism in different parts of a diverse state. Having interviewed more than a hundred key participants, Tuck is able to supplement previous scholarly investigations of civil rights movements in Atlanta and southwest Georgia, but he also draws needed attention to the sustained protest movement in Savannah."--Journal of American History

"Beyond Atlanta is a breath of fresh air in civil rights scholarship. Capturing the memories of dozens of civil rights veterans and tapping every relevant archive, it shows how Georgia's special brand of politics influenced the struggle against discrimination. Emphasizing the strength of local activism in Atlanta, Savannah and elsewhere, it showcases unsung heroes like W. W. Law and throws new light on the role of the NAACP. It is a complex yet compelling story, and Tuck tells it clearly and eloquently. This impressive book makes an invaluable contribution to our understanding of the civil rights movement."--Adam Fairclough, author of To Redeem the Soul of America: The Southern Christian Leadership Conference and Martin Luther King, Jr.

"Tuck joins the new British invasion . . . including Adam Fairclough, Tony Badger, Brian Ward, and Clive Webb . . . [who] have made important contributions to American civil rights historiography. Tuck has written a book that qualifies him for first-class passage to America. . . .[A] state-wide study such as Tuck's fine work illuminates the 'uneasy tensions' between rural and urban areas and the uneven progress between communities, and it raises the bar against reductionist interpretations."--Jack E. Davis, University of Alabama at Birmingham

"This is one of the most important works on Georgia history published in the last few years. No one has ever looked at the civil rights movement throughout the state or in terms of how differently it played out at the grass roots level in Georgia's many different communities. In so doing, Tuck provides not only rich new insights into the dynamics and complexities of the movement, but also a compelling portrait of Georgia and Georgians in the 1950s and 1960s."--John Inscoe, University of Georgia

"The struggle for civil rights in Georgia was as complex as it was diverse. Tuck's account of the many movements in Georgia is both bold conceptually and persuasive in its contention that 'excessive Atlanta-centrism distorts the true picture of racial protest in Georgia.' Beyond Atlanta is a remarkable achievement, a book where the whole is indeed much greater than the sum of its parts."--John Dittmer, author of Local People: The Struggle for Civil Rights in Mississippi