The Counselling Speeches of Jim Ka-Nipitehtew (Publications of the Algonquian Text Soci) (Paperback)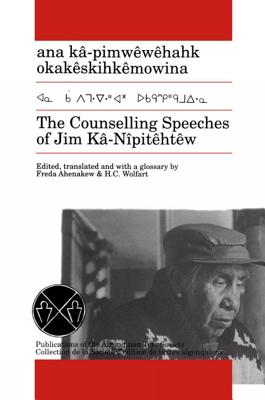 $37.95
Usually Ships in 2-3 Days
Description
---
A monolingual Cree speaker from Onion Lake, Saskatchewan, Jim Ka-Nipitehtew was a highly respected orator. His discourses have great force and authority, and no speeches of similar scope or depth have ever been published in their original form. He speaks of his concerns for young people, and of the proper performances of rituals, and gives an account of the signing of Treaty Six. These are superb examples of authentic spoken Cree texts. They are presented in syllabics, with Roman orthography and English translation on facing pages, and a glossary.
About the Author
---
H. C. Wolfart is University Distinguished Professor of Linguistics at the University of Manitoba
Freda Ahenakew, formerly Director of the Saskatchewan Indian Languages Institute, earned her M.A. in Cree linguistics at the University of Manitoba. In 1997 she was awarded an honourary doctorate by the University of Saskatchewan. She was made a member of the Order of Canada in 1998.